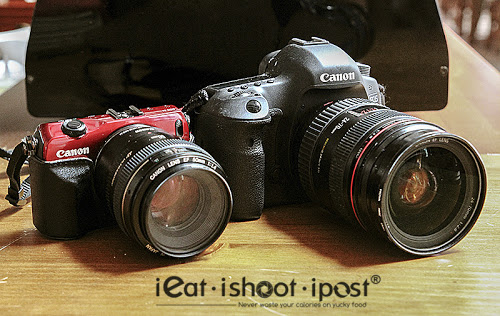 Canon EOS M with 50mm f/1.4 lens vs Canon EOS 5D MKIII with 24mm-70mm f/2.8L lens
I have been very excited ever since Canon announced the their new EOS M camera earlier this year. I have been using the Canon EOS 5D MKII and MKIII with the EOS 24mm to 70mm f/2.8L lens for my food shots over the last four years and I love the setup except for the fact that it is pretty heavy and cumbersome and I always wished I had a lighter alternative to bring around. Of course, there was the option of the EOS 650D, but I felt that if I were to carry a DSLR around, I might as well shoot with the EOS 5D MKIII.
The EOS M is Canon's entry into the mirror-less camera market. But rather than making it a micro four thirds camera, Canon has managed to put an APS-C sensor into a body that is even samller, making it one of the smallest mirror-less camera in the market. So essentially, I am able to take photos of the same quality as a Canon 650D but in a camera body roughly the size of three iPhone 4's placed back to back.
The big question for me is whether I am able to shoot a photo that would be close to what I would normally take with my usual equipment. To do that, I tested the EOS M with the EF-M 22mm f/2.0 pancake as well as the EF-M 18-55mm f/3.5-5.6 lenses which are the kit lenses Canon designed specially for the EOS M. I also mounted the EF-S 60mm f/2.8 macro, EF 40mm f/2.8 pancake and the EF 50mm f1.4 lenses to see which setup would work best for food photography.
You can see from the photos why I am so excited about the EOS M. I compared photos taken with the EOS M with the EF 50mm f/1.4 lens and the EOS 5DMKIII with the 24-70mm f/2.8L lens. The quality that the EOS M is able to produce is simply amazing. The weight of my EOS-M+50mm lens setup is around 800grams compared to my 5D MKIII+24-70mm lens which weighs around 2.3kg and the form factor only around a third of the size which makes it rather easy to carry around.
The following photos was shot using the two camera at Los Primos Spanish Tapas Bar at 81 Club street. I have made only minor tweaks the contrast and brightness of the images and some of the photos have received just a slight cropping. (less than ten per cent) I think you can see that for digital publishing, the EOS M setup is just as good as the EOS 5D MKIII. The differences in image quality will only become apparent when you are enlarging the images for print.
So, does that mean I am going to ditch my EOS 5D MKIII and just shoot with the EOS M from now on? No, of course not. There are still many things about a DSLR that is great. The focusing is quicker, the full frame quality is still better especially when I want to blow it up and I still prefer to compose my photos through the view finder. However, the EOS M is a great camera to bring along on days where I feel the need to be more mobile but still want the confidence of being able to take a great photo.
Here is the summary of what I like and my wishlist.
What I like
1. The camera is solidly built and compact but delivers photos the same quality as a DSLR.
2. The touch screen is fluid and intuitive and works like a charm. Users of Iphone would be very comfortable with it.
3. The quality of the images are excellent and I am very confident bringing it around for my food shoots as well as portraits and landscapes. I brought the camera out on my day trip with the kids at Legoland and it was excellent!
4. The ability to mount all my Canon EF and EF-S lenses means that I have access to the whole range of Canon lenses including the excellent L lenses!
5. The quality of the HD videos taken with the EF-M 22mm Pancake lens is excellent. The STM lenses which Canon produces for video means the focusing is quick and silent.
My Wishlist
1. Faster AF (autofocus). Now this is probably the most cited complaint about the camera. The truth is that it is certainly slower than the DSLR or some of the micro four third cameras in the market. However it is not so slow that it is unusable. I found that if I disable continuous AF and use the touch screen shutter to take my photos, it is actually quite fast and I had no problems with my shots at Legoland. Having said that, this is not a camera if you are a serious sports photographer.
2. A longer battery life. I did managed to shoot from 10am to 5pm at Legoland while taking videos. Would have been great if it could last till 8pm.
3. A viewfinder that can be attached to the hotshoe would be great.
4. A few more buttons and dials for frequently used functions
5. An EF-M 50mm f/1.4 macro lens that can be mounted directly onto the EOS M which is cheaper, smaller and lighter.
Conclusion
This is a great camera if you are looking for something small but takes really excellent photos of food, people and landscapes. The option of being able to use Canon's full range of lenses means that the sky is really the limit in terms of creativity. The EOS M with 50mm f/1.4 lens setup is fantastic for food photos and combines portability with excellent picture quality. If it had a viewfinder and a faster AF, it would have been the perfect camera for me! I am also looking forward to Canon's upcoming range of EF-M lenses especially a Macro lens that can replace the EF 50mm f/1.4 lens.
Exclusive Offer for Canon EOS M at John 3:16 Camera Supplies
EOS M Kit 3 Package (RRP $1349): EOS M body, EF M 22mm lens, EF M 18-55mm lens,90EX Flash, Camera Bag, Camera jacket, 8GB SD card. PLUS an autographed copy of my new book "Only The Best" (RRP $17) for $1200 nett.
Just look for Samuel at John 3:16, Level 4, Funan Centre in front of escalator just below the food court.(They just moved from 5th floor a week ago)
I have been buying all my camera stuff from John 3:16 for 14 years and they are 100% reliable and I highly recommend them for anyone looking for a camera shop with great service! The only problem is that they are so popular that they always have a lot of customers in the shop so you might have to wait awhile. But they treat all their customers are like family friends, so you will feel right at home there.
Here's a video showing the features of the Canon EOS M
This post is sponsored by Canon