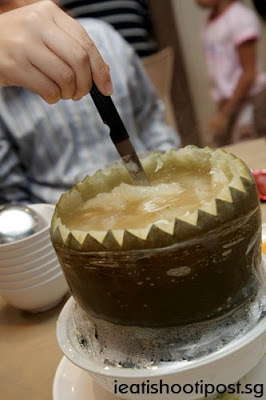 Double Braised Winter Melon Soup $70 (preorder)
Our Makan Kakis are a passionate lot. When they find something good to eat, they go crazy and start organizing dinners for all the other kakis to share in their latest find. When I say crazy, I mean visiting the same restaurant 4 times in week, crazy. This kind of thing does not happen all that often but when it does, it usually means that a visit to the restaurant is in order.

Don't be misled by the name of the Restaurant. This is not just another Hong Kong Cafe. They do sell very good French Toast and I am told by Liverpool that their Tomato Baked Pork Chop Rice is about the best there is around. But if you just came here for those items, you'd miss out on some pretty authentic Hong Kong cuisine. The restaurant is run by Hong Konger, Francis who did start out with the Hong Kong cafe concept. But soon they found that they were attracting more families looking for dinner type menus. So it has become more like a little Hong Kong Kitchen rather than a Cafe.
When I think of authentic Hong Kong cuisine, the Double Braised Winter Melon Soup always comes to mind. My sister-in-law's family is from Hong Kong and whenever we visit them in Sydney, her mom would inevitably pre-order this from their favourite Chinese restaurant. As with a lot of prized Hong Kong dishes, this takes a long time to prepare as the soup needs to be slowly cooked in the melon for many hours. The result is a very sweet Cantonese style clear soup with a very soft flesh of the winter melon which is scooped out just before serving. 4.25/5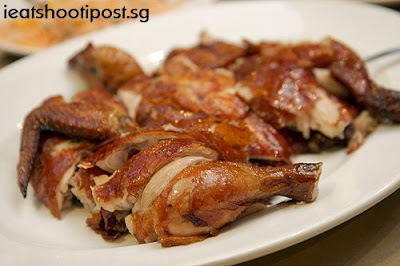 Nam Yu Crispy Roast Chicken $32 (preorder)
The one dish that all the kakis were raving about was the Roast Chicken which you also have to order one day in advance. The Nam Yu was a nice little twist over the more common five spice seasoning and I was told this was very popular in Hong Kong. It was perfectly cooked with the bone marrow was still bright red, but the flesh cooked through and very tender. I felt the skin could have been more crispy though. Instead of salt and pepper, it was served with a sweet and saltish Nam Yu dip which is very good, though I thought it would be nice to also have the salt and pepper dip which is what I was accustomed to. 4.5/5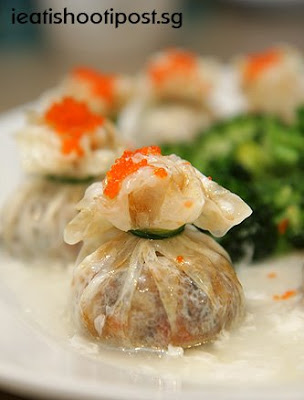 Egg Wrapped Treasure Bag $5 per piece (preorder)
We Asians often spend many hours on labourious food preparation. Perhaps this is due to the cheap labour costs. I remember in Thailand, you even have ladies sitting around peeling the shell off the legs of the local mud crabs (legs not the pincers). They then serve these on a platter with a dip. I just couldn't stomach it as I thought about how they might use their teeth to crack open the legs before extracting the meat.
Anyway, this particular Egg Wrapped Treasure Bag is another labour intensive dish which I suspect might have been concocted by Chinese Chefs in the past impress the Emperor. I am telling you all this because I feel some dishes you eat for the taste and others you eat because it is unique and takes a lot of effort to make. I wouldn't say the taste of the dish is die die must try, it is good, but if you gave me the same stuff wrapped in ordinary crystal dumpling skin, I would have derived almost the same amount of taste satisfaction. The value add really is in the thought that the skin is made from just egg white with a bit of flour. 4/5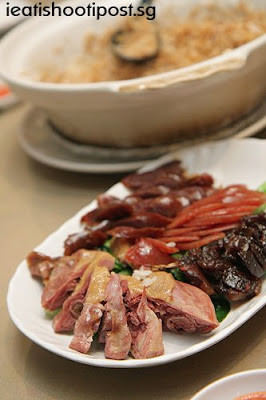 Lup Mei Fan $32
This is essentially Hong Kong style Claypot Rice with homemade Lup Cheong and preseved meats. I think most Singaporeans will say that they would like some salted fish and thick black sauce with the dish as this is the version we are accustomed to. The Lup Cheong is made by a Hong Kong chef who has specially flown into Singapore and is one of the best Lup Cheong I have tasted. It has a wonderful floral fragrance with the flavour of a sweet wine. The preserved pork belly was marvellous with the rice. 4/5
For those looking for a nice Lup Cheong, they are available at $30 per packet (600g)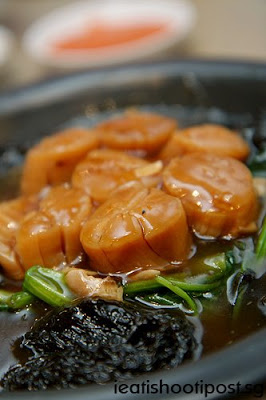 Fa Chai with Dried Scallops $20 per portion (Photo shows 1.5 portion)
With CNY just round the corner, the restaurant has started preparing the traditional CNY dishes. The Fa Chai with dried scallops was very good, the scallops were huge and my M-I-L gave her left thumb of approval (She's left handed). 4.25/5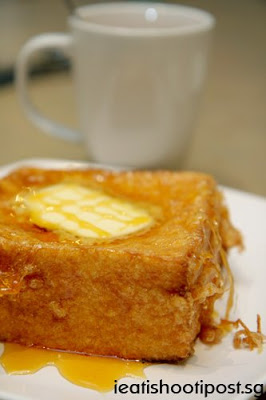 French Toast and Tea/Kopi set $4.50
If you are a fan of Hong Kong Cafe style food, you should check out their French Toast. It is very good. The bread is fluffy and the crust is thin and not soggy. One of the best that I have tried in Singapore. 4.5/5

Conclusion
You'll have to try it yourself to find out why the kakis are making it the restaurant of the month.
Read and see their photos here