When you found something good to eat, do you:
Keep it all to yourself so that the place will not get crowded and the food quality won't drop
Rush home and post it up on the internet so that the world will know
Ring up all your friends and organize a makan trip to the eatery
Go back again to try it a second time to make sure the first was not a fluke before telling the world
Take pictures of it so that you can re-live the ecstasy at your free time
Just file it into your memory banks so that when someone asks you, you can rattle off a few makan spots and appear like a real guru
Well, Liverpool found this Beef Hor Fun and could not wait to get all of us makankakis there to try. Of course when you rave about a place so much, you also run the risk of everyone not feeling the same way you do, which can be quite embarrassing……. believe me I know.
So anyway, the group of us where "sold" this Beef Hor Fun by Liverpool who described it as "You have not tasted Hor Fun until you tried this one". This is what I call a "stick your neck out ready for the chopping board" kind of statement, especially when it is applied to a group of pretty "hardened" makankakis. (Myself NOT included, I am still joyfully discovering new things to eat everyday)
So when the Beef Hor Fun finally arrived, we all inspected it very suspiciously, wondering how an innocuous plate of Fried Hor Fun could get Liverpool so excited as to risk being shot down to pieces.
The Hor Fun was slippery and lively which was a nice contrast to the crunchy bean sprouts. The Beef was not overly marinated such that it assumed a sponge-like consistency. It still retained its natural bite but at the same time it did not require a mastication marathon to make it pliable enough to swallow. The beef did taste a tinge sourish that day, perhaps an indication that they use lemon juice or some other citric acid as a tenderizer. The Hor Fun could do with a bit more wok hei but overall, it was a pretty good plate of Beef Hor Fun for me. 4.25/5 However, I have to add that some of the other hardened makankakis were not so impressed, so Liverpool still ended up getting part of his ego bruised. But Liverpool being a cool guy he is, just responded with his signature chuckle.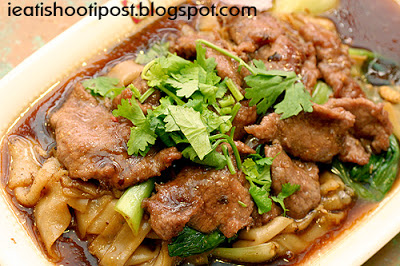 This Beef Delight stall had just finished shooting for a Channel 8 program that featured its Beef Hor Fun, so the owners are understandably confident about their dishes. Since I have been searching for a wet Beef Hor Fun, we decided to give the wet version a try as well.
Unfortunately, there was a real lack of wok hei on the Hor Fun and the gravy was thin and watery and could really do with more of a beefy punch. 3.25/5
Conclusion
This would be one of the best dry Beef Hor Fun I have tried so far though I don't really go for this dish much so I have not got a good yardstick to compare it with. I can imagine how it can be better though.