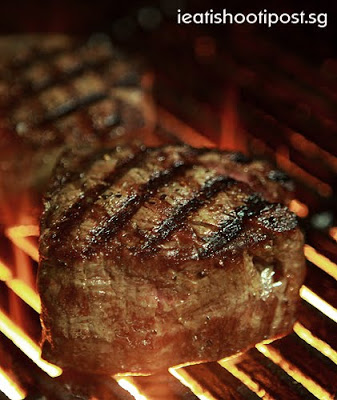 USDA Prime Black Angus tenderloin 200g over a Mequite Wood fire $48++
When I was Seventeen, I walked into Cairnhill steakhouse with Rockett Girl and since then, every steak that I ate was compared with that Gold Standard. I paid $30 for the steak dinner that night, a price which, over twenty years ago was quite a lot of money. (even more so since I was drawing a paltry $130 per month while serving NS) It probably was not a USDA Prime Aged Beef and it was definitely not Wagyu, but it was one tasty steak. (I think the company must have made a big difference as well)

Now that I think about it, my Gold Standard is probably wrong from the start. After all, how can I base my expectation of Steak on a Hainanese steakhouse? Surely the Gold Standard should be Peter Luger's or something like that. But you know, I have eaten at Morton's and Ruth Chris, both reknown steakhouses in the US, but each time I came away feeling that the steak could be much better. I think that the Hainanese Steakhouses must have added something a little extra which makes the steak more tasty. Or perhaps I just like my steak in a particular style.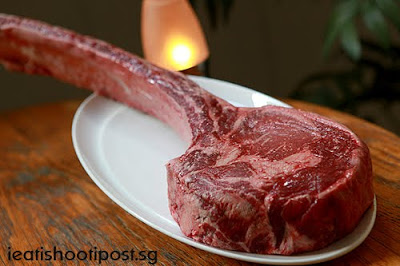 The 1.7kg Tomahawk. Feeds 4 – 6 $340++
The reason I say this is because conventional wisdom has it that Dry Aged Beef is far superior in taste than the normal beef. I too was led to expecting that when I get to taste Dry Aged Beef, I would have eventually found my holy grail. Over the last 2 months, I have had the privilege of tasting Aged Beef on several occasions and each time the level of enjoyment was different.
The one I truly enjoyed was my experience at Mamou. I had the opportunity to eat a 600g USDA Prime Dry Aged Ribeye with bone in as well as half of my lady colleague's USDA Prime Ribeye. I enjoyed both. The normal steak was juicier but the dry aged was more tender and a little more flavourful. But if you asked me, I would have been quite happy with the normal steak rather than paying twice the price for Dry Aged. On other occasions, including this one, I have come away with the words of the U2 song in my mind. "I still haven't found what I was looking for".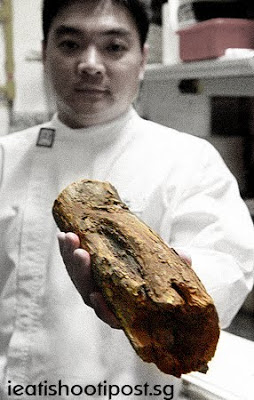 Chef Isaac holding a piece of Mesquite Wood
Based on this, I surmise that even though a steak in its most basic form is simply a cooked piece of meat, there are many factors which will affect your level of enjoyment. It is whether the cattle was grass fed or grain fed, whether it is from Australia or US. Whether the meat was dry aged or wet aged, broiled, flambe, or grill over wood or charcoal. Whether it was left to rest after grilling or served immediately and whether it is served on a plain plate or a sizzling hotplate.
So Dry Aging the meat is only a part, albeit, a significant part of the whole puzzle and certainly not the be all and end all of a great steak. I guess that is why I enjoyed it on certain occasions but found that it was not worth the extra $$$ on others. So the taste I am looking for has a lot to do with how the steak is cooked and not just what it was before hitting the grill.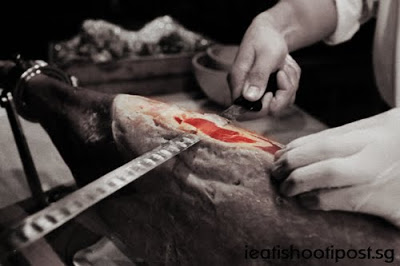 Slivers of Jamon Iberico being prepared for the plate
If you like the idea of eating a thick piece of steak in a cosy, woody steakhouse, then Bedrock would be just the place for you. The place reminded me of a typical US steakhouse complete with wood panels with brand new shiny iron nails. They even have wooden lockers for people to keep their own bottles of whiskey!
If you are looking for something really special, you won't be dissappointed when you are greeted not by a handshake but by a hoof-shake when you enter the restaurant. That hoof belonged to a hapless black iberian pig who lived a good life feeding on Acorns in Spain before it died three years ago. Now, the other leg is probably half way round the world but this particular left leg has found itself in a Steakhouse in Singapore, greeting guests as they shuffle to their seats.
For $45 a serving, you can now taste what is regarded as the finest ham in the world. Now, there is Jamon (Ham) Iberico and then there is Jamon Iberico Bellota (Acorn). For the latter, only the finest pigs are selected to feed in the Oak Forests in Spain to fatten them up for the sacrifice. Restaurant owner Keith tells me that the leg of ham belonged to such a pig. So this is supposed to be the real deal. For more of the interesting story behind Jamon Iberico Bellota click here.
This ham is very nice. It is a bit chewy but the chewing releases the sweet nutty aroma which lingers at the back of the palate. This is my first time tasting this ham so I can't really tell you how good it is compared to what you eat in Spain but logically, the process of transporting the ham to Singapore shouldn't affect the taste so much right?4.5/5
I recently had dinner with fashionfoodie who told me that Jamon Iberico Bellota is supposed to just melt in your mouth rather than being chewy, so I am not sure what happened. Perhaps you can let us know of your own experience with this ham?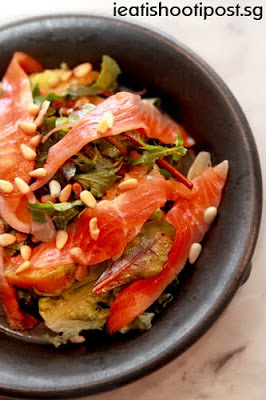 Whiskey Trout Salad $18++
They have several appertizers besides the Jamon Iberico which I would highly recommend. The first is the Bedrock smoked tomato soup $12++ which Rockett Girl loves. Chef Isaac uses apple wood to smoke Roma Tomatoes first before making it into a smoky flavourful tomato soup. This is excellent. 4.5/5
The other dish I would highly recommend is their Whisky Trout Salad which is made from Pacific trout which they cure in-house. The secret to the curing process is the addition of good old Whiskey which gives it a very nice smoked flavour. 4.25/5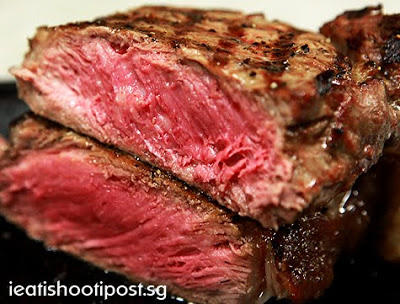 USDA Prime Dry Aged Striploin $65 for 200g, $110 for 400g
If you have been following the blog, you would know that I have been waiting for USDA Prime Dry Aged Beef to hit our local food scene for a long time. I had the 400g USDA Prime Dry Aged Striploin which was excellent for its tenderness. However, as I have alluded to at the beginning of this post, the flavour of the meat was not quite what I was expecting and the steak just wasn't as juicy and charred as I would have liked. But I think it might just be that I like my steak a certain style or perhaps Dry Aged just is just not what I expect it to be. Personally, the final verdict on Dry Aged beef is still pending. The next time, I am specifically asking for my steak to be extra well charred. 4/5
Conclusion
If you are looking for a casual laid back place to eat a thick char grilled steak, then look no further than Bedrock. If you are not fussed about Dry Aged Beef, their Bedrock Pepper Steak $55++ is quite a good deal. Their sides are big enough for two persons and in particular, I would recommend the truffled mash 4.5/5 which I really enjoyed. If you have a big group, then you can opt to go for the tomahawk. I don't know what it tastes like, but just imagine what your other friends will say when they see the photo of your steak!

This was an invited review