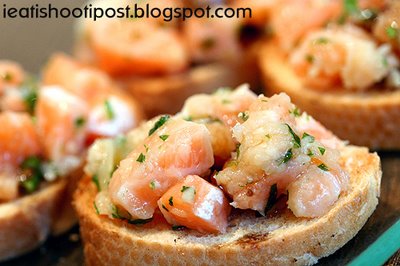 This restaurant is closed.
With ieatMaMa, iwatch_ueat & introducing our latest makankaki, accidentalfoodie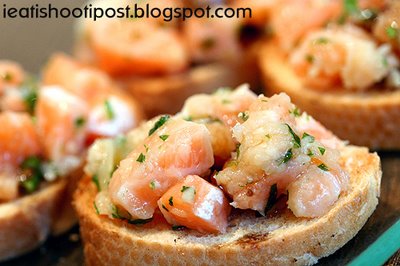 Basil Alcove is the kind of restaurant that I wished existed when I was still a poor struggling student dating my then girlfriend. I mean, where else can you enjoy dishes that you can only find at fine dining restaurants and pay less then $15 a head? This story is about a young man with a passion for cooking who wants to make Haute Cuisine available to the masses. In order to provide Fine Food at rock bottom prices, something's gotta give. Here you get your culinary masterpiece and nothing else. No Tuxedo, no candlelight, no posh furniture, no table napkins, not even aircon. (Well there is a small section next to the kitchen in the shop which has aircon and spotlights and I guess you can buy candles from the numerous religious shops in Fortune Centre). This little shop along Middle road used to be a Yong Tau Foo stall. Half the stall has been converted into the kitchen, bar and cashier, and the other half into a dining area with room for 6 persons. There is room for another 20 to enjoy Al Fresco Style Haute Cuisine next to busy Middle road. Welcome to Singapore's first (at least to my knowledge) Coffeeshop Fine Dining experience!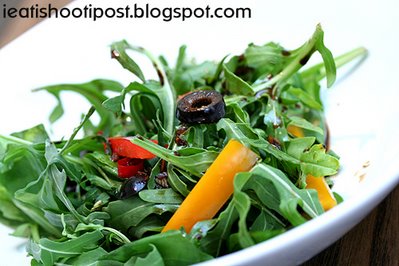 Lunch started with the Aragula & Basil with Olive Aglio which is part of the $6.80 set lunch. I hope you are impressed, because I certainly was. For $6.80 you would not expect them to give you such an exotic salad. I had expected Iceberg Lettuce and local tomatoes. I thought the salad dressing was a little too spicy for me as it was a balsamic vinegrette with chilli padi. Good for those who always order their Char Kway Teow with extra chilli. But you got to give it to Chef Xander. For a salad at this price, you got your Aragula, your extra virgin olive oil, fresh basil and real shredded parmesan (not the Kraft type that needs no refrigeration) 3.5/5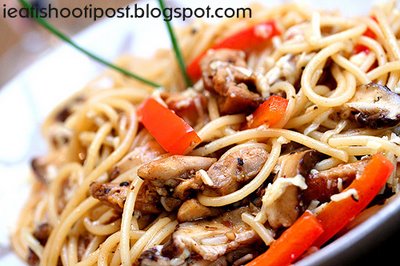 The $6.80 set lunch came with the Chicken and Mushroom Aglio which everyone liked. We are talking a whole chicken thigh fillet with really succulent shitake mushrooms tossed in spaghetti with a nice garlicky Aglio sauce. $6.80 with the salad and a drink some more!! Can't believe it! 4/5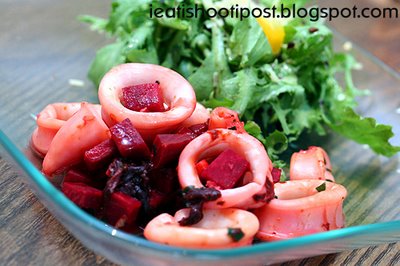 The Green Frisee with Calamari was about the only item that I did not quite like. The element I did like was the fresh beetroot which was crunchy and sweet and gave the calamari that red colouring. Interesting, but I will try something else next time. $7.80 3/5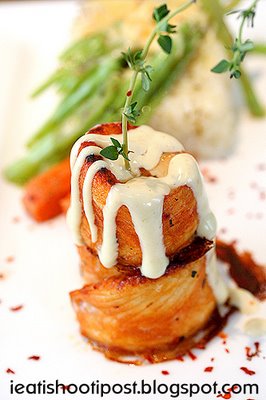 You can order the Baked Pacific Dory as part of the set lunch set for $8.80. This is probably the nicest looking sub $10 main course you will find anywhere. The fish was done very well. Crisp on the outside, yet still juicy on the inside. It is served with a pineapple rice which is somewhere between a risotto and a fried rice. Think of Nasi Lemak cooked with fresh cream instead of coconut cream. This one is really worth ordering if not just to look at the expressions of delight and amazement around the table. 4/5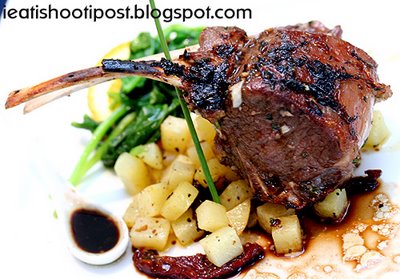 At just twenty three, Chef Xander has already been in the kitchens of New York, Sydney and a few of the top hotels locally. This guy simply loves to cook. You have to be really passionate in order to whip up a Roasted Rack of Lamb like this in a coffeeshop! And he tries to use as many of the good stuff as he can. Take for example the use of Sundried Tomatoes and Chives in the picture above. His kitchen is full of the wonderful exotic herbs and spices that you can only find in really classy establishments.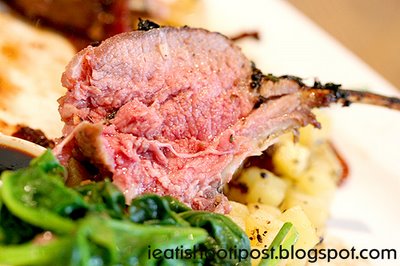 The lamb was done to perfection. Now, tastewise, it isn't as flavoursome as a high grade New Zealand lamb. Like I said earlier, it order to provide Fine Cuisine at rock bottom prices, something's gotta give. You cannot expect to pay $14.80 and get the best Top Grade Lamb rack.But seriously, if you give this guy a bigger kitchen and a take off the budget constraints he'll whip up a storm for you! 4/5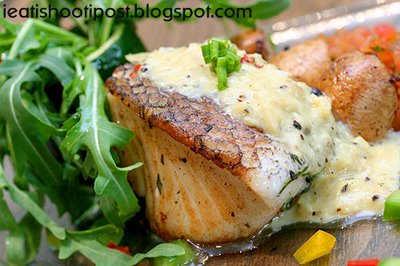 The Chilean Cod with Garlic Cream Sauce was very nice, although, again, don't expect the highest grade Blue Eye Cod. The flesh lacks the creamy oily flavour of a really good Cod and the texture is a bit rough. But the presentation, the sauce and the sides are all excellent. A good Cod dish like this in a Hotel would easily set you back at least $30. Here it's $18.90. Definitely good value for a tasty piece of Cod. 4/5 Again, notice the quality of the sides. You can just about make out the fresh tomato salsa and the button mushrooms that he provided.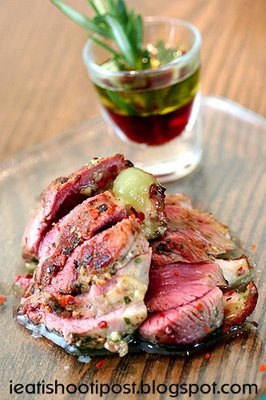 Ducks are funny. It can be very affordable when you eat Roast Duck, Braised Duck or Kiam Chye Ah (Salted Veg Duck), but when you order Duck at a fancy western Restaurant, suddenly you pay a bomb for it!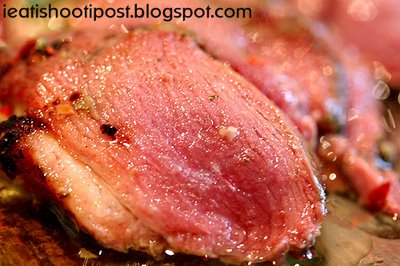 True to his vision of providing Fine Dining to the masses, you can get this French Style Pan Fried Duck Breast for just $13.80. The duck was done very well and the Pesto Oil dressing was excellent with the duck meat. Next time I am going to ask Xander to give me a savoury cream based sauce to try. All the women on the table loved the duck. Xander tells me this is one of the most popular dish with the girls. Guys take note! You want romantic dinner that is cheap, make sure you don't bring girlfriend to eat Kiam Chye Ah, hor. Bring girlfriend to eat Pan Fried Duck Breast and you are sure to score some points! 4/5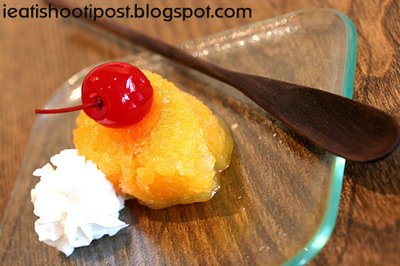 Conclusion I can almost guarantee that your first visit to Basil Alcove would be a delightful experience. That's because when you see that tiny kitchen, the coffeeshop tables, the low prices and the Chef that looks like an Ah Beng version of Steven Segal, you will NEVER expect that beautiful piece of culinary art served at your table! That is, unless you have already seen the pictures in this blog! 8/10 (T3.5+V3+S1+E0.5) Rock bottom priced Haute Cuisine dishes without the frills.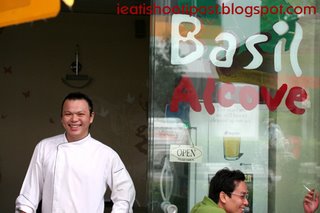 Notes: Friday nights are busy and you must be prepared to wait half an hour for your food Acknowledgements: Read about this eatery from this Blog and this Blog