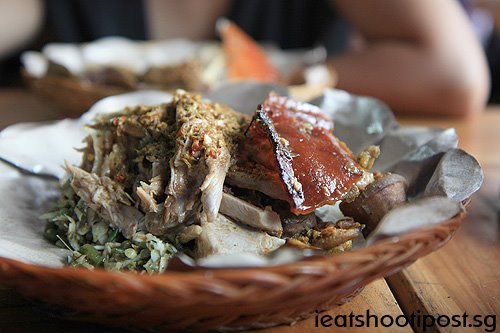 Babi Guling Special 35,000 rupiahs (approx S$5)
When I was doing research on what to eat in Bali, one restaurant always seem to pop up and that is this little restaurant in Ubud that sells Babi Guling (Roast Pig). Indeed, it seemed to be the undisputed, "come all the way to Bali must eat" dish. Not only must you try Babi Guling, but you must specifically try the Babi Guling at Ibu Oka which is acknowledged even by the locals to be the best Babi Guling in Bali and indeed, the world.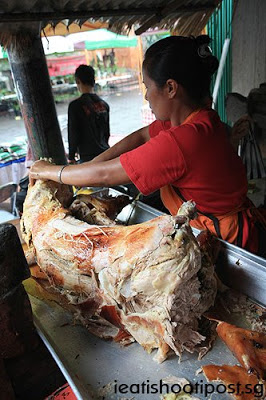 Whole Roast Pig deskinned
With such an accolade, I could not resist travelling the extra one and a half hours out of Kuta Beach to Ubud in order to taste this wonderous dish and see what the fuss is all about.
The place was pretty crowded when I got there and there were people from different nationalities dining there. I sat beside an American Chinese gentlemen with his African American wife and 2 kids and he was just raving about how good the Babi Guling was. His kids however, were still looking for the nearest MacDonald's.
Babi Guling is essentially a whole roasted pig stuffed with different spices. The whole pig is then carved and served with rice and fried vegetables. They also take the innards, chop them up and fry them to a crisp. I have to tell you that even though everyone raves about this Babi Guling, I just did not find it all that great. The taste was ok, but it's just something I would try once just to say that I have tried it.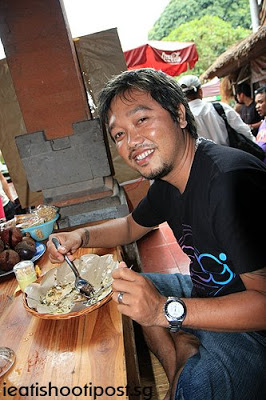 Kadek (our driver) finishing his plate of Babi Guling
My driver cum tour guide gobbled up his plate of Babi Guling though. He told me he takes travellers to Ubud a few times a week and he never fails to eat at Ibu Oka.
Just a little bit of info about getting to Ubud. The hotel brochures advertise a full day tour by private car for US $25 per person. That would work out to be about S$150 (4 of us) for the trip. When I got into Bali, I was picked up from the airport by a tour guide who offered to take my whole family on a private tour of Ubud plus sightseeing for 800,000 rupiah or about S$110. Then I found this private driver who offered to take us around for the whole day for 350,000 rupiah or about $50. Our particular driver could speak English pretty well and also doubled up as our tour guide for the day.
Conclusion
I feel sometimes that with all these famous places, one is really pressured to say that they are good simply because everyone seems to rave about them. It is almost like the story of the Emperor's New Clothes. Well, I honestly didn't think much about Babi Guling, but everyone else in the restaurant seems to be devouring their plates of Babi Guling like there's no tomorrow.
If you are looking for transportation, you can contact Kadek at [email protected]
+62 817552841