With liverpool, Damien, iwatch_ueat and smart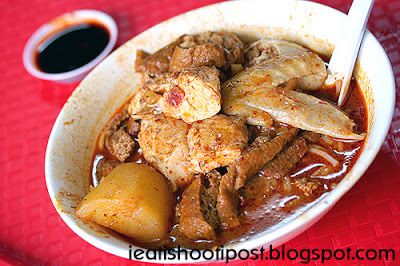 I serendipitously stumbled upon this stall which had a big Makansutra Legend poster stuck onto the front of the glass display. Oh I knew that there was a really good Bak Chor Mee stall in the food centre, but no one mentioned that they were also a Makansutra Legend. Those of you who have been following my blog would know that I have been hunting these legends down one by one to post their pics here. Ah, the joy of unexpected discoveries!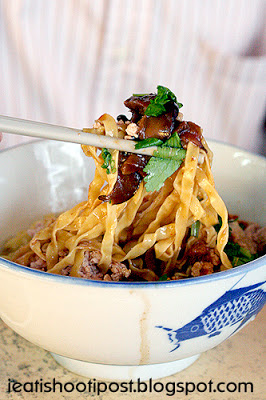 The one characteristic of good BCM is freshness (Teochew: Chnee – Fresh) of the ingredients and this bowl of piping hot BCM tastes really fresh. Those who like their BCM with a bit more vinegar will appreciate their unbridled use of black vinegar which is reportedly a special brand of traditional black vinegar from China. The noodles were QQ and were complemented very well by the sauce. They were generous with the Ti Po (Crispy fried sole) which was a bonus cos I love the stuff. As far as I am concerned, this was an excellent BCM but some of my makankakis still pay homage to Tai Hwa as the Chumpion BCM. 4.5/5
Conclusion
I am frankly undecided as to the best BCM in Singapore. This one was, to me, as good as a BCM can get, but real BCM afficianados may be able to tell us who they think the real champ is.