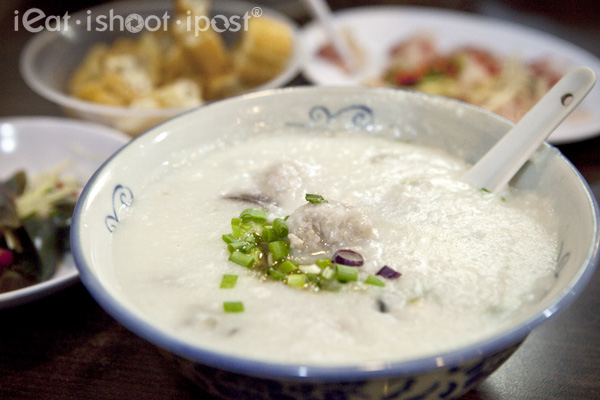 Pork Porridge $3.50. You Tiao 70 cents
It is a dark and stormy night. You are nursing a cold. Having gone through a few days of reservist training, and eating combat rations, you feel that you deserve a bit of pity. Just a tiny bit. So you indulge in a sprinkle of self pity because no one else is giving you any. (This is purely fictional OK?)
When you are in this state, what would you want to eat? Porridge, that's what. All you want is a bowl of warm gooey goodness and a big bowl of You Tiao to go with it. Thankfully, some smart entrepreneur understood that there are NSmen out there who need a bit of lovin' and decided to buy the rights to Ah Chiang's Traditional Charcoal Porridge and set up stalls around Singapore that open till late at night. This smart person, (I wish I can shake his hand) understands that it is darn difficult to find a nice bowl of porridge late at night. Thankfully he was smart enough to locate one at Toa Payoh Central, next to the MRT right at the bottom of a multistory carpark with ample parking even on a weekend evening. Now that is what I call finding a niche in the market.
Ah Chiang has been around since 1971 and I had the chance to eat at the original restaurant at Tiong Poh Road a while ago. Since then, I knew that I would revisit it with my camera. The porridge is good, to be sure, but I think it is the whole package of being able to order extra You Tiao and being able to have in a comfortable restaurant at night that I am attracted to. Ah Chiang serves Cantonese style porridge, which means the rice grains have been boiled to a smooth consistency and you have a a choice of ingredients which you can choose to add to the porridge. The one I had in Tiong Poh Road was a bit more savoury than the one at Toa Payoh, I felt. But I can't be sure if it is because I was having a cold or there is some inconsistency in the making of the porridge. Although they call it traditional Charcoal porridge, they cook some over charcoal and others over gas. I specifically asked for mine to be cooked over charcoal. Too bad I wasn't in a mood for a randomized double blind controlled trial, so I can't tell you if the charcoal made a difference to the taste of the porridge. (Maybe next time) 4.25/5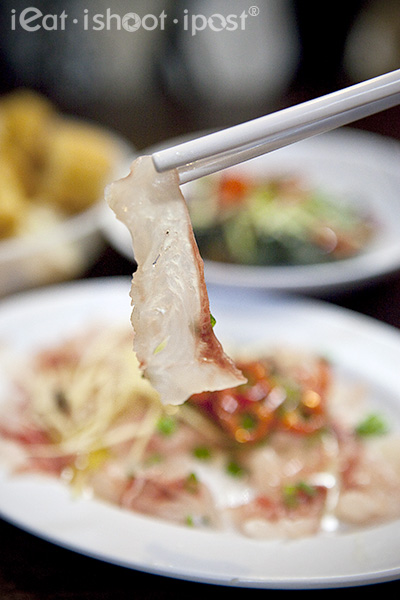 Good thing about Ah Chiang is that have some simple side dishes like the sliced Raw Fish which you can order. They use fresh Ikan Parang (Wolf Herring) which is the traditional raw fish we all grew up with before the advent of Sushi. You can tell it is Ikan Parang because there is a bit of grit in the flesh which are the tiny long bones which have been sliced across. The fish is drizzled with some sesame oil and served with ginger and chilli. You could very well ask them to hold the sesame oil and bring your own Wasabi and soy sauce and have a really cheap Sashimi dish! 4/5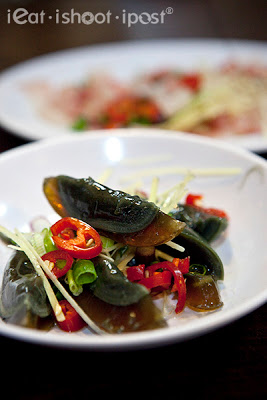 The other thing you can order is extra century eggs. They use the same dressing for the Century Egg as they do with the fish which I don't think melds very well with the Century Eggs. I would just buy the eggs to add into the porridge. 3.5/5
Conclusion
Great place to find a hot bowl of porridge throughout the day! It might not be the best porridge around, but it is available in a convenient location and I like the fact that you can order a side dish of You Tiao.