About this blog
This blog is all about food. It's not just a place to find out where to eat, we also want to explore the origins, the ingredients, the recipes, the science, art and history of food. We like to think of ourselves as culinary explorers, gastronomic geeks and obsessive compulsive cooks.  Aside from finding out where to eat your next meal, we want you to be informed about what you are eating, how you should eat it and how to cook it!
Our Services
We provide marketing services on our social media platforms which include product endorsements, food consultation, marketing strategies, video and recipe creation.  For more information, please write to [email protected] or [email protected]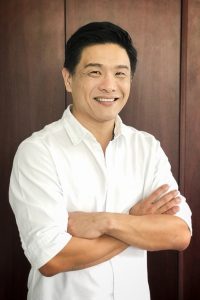 About the Author and His Team
Dr Leslie Tay, has spent over a decade roaming around Singapore in search of the best hawker food and then publishing his mouth watering pictures and stories on his award-winning food blog, ieatishootipost.sg.
Dr Tay is recognized as an authority on local food lore and has delivered talks on Singapore's Hawker Cuisine to international as well as local audiences.  He has been invited to speak in the US and other countries on the topic.  In 2016, he also spoke at the 3rd Singapore Heritage Science Conference on the topic of how to preserve Singapore's hawker heritage and is currently one of the members of the Hawker Centre Review Committee.
He has also been sought after as a food consultant for restaurants and was responsible for the revamp of the lobby lounge at Shangri-La Hotel as a place for local heritage cuisine. He is also involved in food consultation for other eateries where he helps to in restaurant "makeovers".
He is now regarded as one of the best authorities on Singapore food and has appeared on numerous publications and TV programs.  In 2013, he co-hosted the TV series "8 Days Eat" together with Belinda Lee.  The 8 episode series showcased the best of Singapore food embellished with nuggets of hawker history and secrets to discovering the deliciousness of Singapore food.  More recently, he was the host for CNA insider's episode on "Goodbye Tanglin Halt".
Dr Tay also cooks and has extensively researched and published treatises on local dishes like Pandan Chiffon Cake, Tau Huay and Roti Prata.  He also creates and produces recipe videos for various clients including Tefal and LG.
Dr Tay has published 4 books on Singapore Food.  His current book, "Only The Best" is currently in its second print run and has been on the Kinokuniya Best Seller list for non-fiction books.  "The End of Char Kway Teow" which was published in Dec 2010 was a Straits Times bestseller.  The book also won 3rd place in the inaugural Reader's Choice Awards in 2011 and was chosen as one of 50 books to be presented to libraries around the world in celebration of SG50. He is also the co-author of "The Singapore Heritage Cookbook" which is an SG50 project showcasing 12 iconic Singaporean dishes published by Peter Knipp Holdings in 2015.
As a photographer, Dr Tay has held his own exhibition at Millenia Walk in 2013 where he demonstrated and taught his unique style of "street" food photography. His photos and articles on food photography have been published in photography magazines as well as international publications such as the Sydney Morning Herald.
Ieatishootipost has a growing community of readers as well as a sizeable following on Facebook (331K), Instagram (145K) and a growing subscriber base on YouTube (14K).
He has endorsed products from several major companies and has appeared as the face for the Canon Powershot Campaign on print and radio and continues to conduct lectures on Food Blogging and Food Photography for Canon Singapore.  He has also endorsed products from companies like KitchenAid, Kikkoman, LG,  Dilmah and 3M.
Dr Tay is a family doctor and practices at Karri Family Clinic in Tampines.  He is happily married with 2 young adult children. His wife Lisa (@FeiEats), also a foodie, has recently come on board more actively to eat, write, film and produce some of his food escapades.