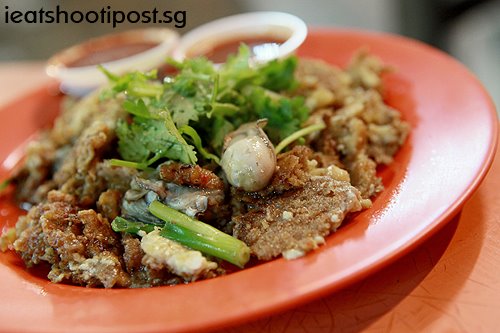 One of the things that I realise when I was in Penang was how much the Singapore coffeeshop scene has changed. In Penang you get to see what our coffeeshops were like back in the 70's and 80's. In those days, the hawker stalls were still placed at the front of the coffeeshops so that customers can just walk along the outside of the coffeeshop to see what is being offered. Another thing I noticed is that the individual stalls in Penang don't have their own names. It was simply "beef kway teow" or "char kway teow" and the way to identify them was to mention the name of the coffeeshop. I can't remember if that is also the case for Singapore. Does anyone remember?

Anyway, if you want to see what coffeeshops were like in the old days, here is one which hasn't changed for the last 30 years. There are three stalls here and they are all pretty good. I have already mentioned the Hokkien Mee in my last post. So in this post I just wanted to post pictures of the other two stalls here.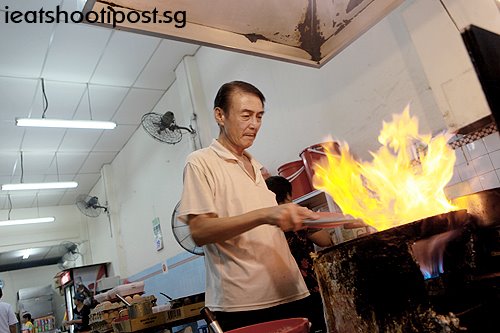 The Oyster Omelette here is very popular and this uncle still adheres to the Oyster Omelette credo of "Really hot pan with lots of good lard" (Teochew: Jiak Tia Gao Lar). If your doctor has warned you about your cholesterol levels, then you shouldn't continue reading this post.
Oyster Omelette is one of those things that should be very difficult to get wrong. I mean, fried eggs in lots of oil is a very simple and tasty combination which we often take for granted until we are out camping. Trust me, a good fried egg is a godsend during reservist training when you are somewhere in Neo Tew in the middle of the night after having to eat combat rations.
And yet, some hawkers can still get it dreadfully wrong when they don't get the consistency of the starch right. A good oyster omelette should be nice and crispy on the outside but still sticky with a good amount of well fried eggs. It really is one of those things that you can do at home and still come out pretty good. If you don't believe me, you could try it at home yourself. All you need is a packet of sweet potato starch, a few eggs, fish sauce and oysters or any other seafood like prawns. Just add water to the pototo starch and test fry some in a hot pan until you get the right consistency. Once you have the right consistency, pour some into the hot pan, add the eggs and then add the seafood. Dash of fishsauce, chopped cilantro on top and voila, a great omelette and it doesn't have to be overly oily.
But if you are the type who can't fry an egg, then you can go to this stall and let this uncle fry one for you. As I said, he is still very old school, so you can watch your omelette being "deep fried" with lot of oil. The end product is a crispy oyster omelette which is sinfully good. Well, it would have been better if the uncle wasn't so enthusiastic about frying it to a crisp. I was told later that the plate we had was a little overfried and that usually it would have sticky gooey bits. But hey if you like it crisp, this one is for you. I would give it 4/5 for the dish I had that day, but I am confident that it would get a higher rating when I come back the next time and tell the uncle not to overdo the crispy bit.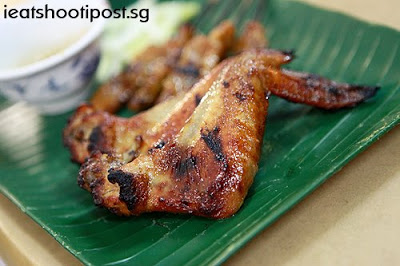 Just a quick mention about the satay and chicken wing stall here. The satay is alright and I am always grateful for any satay when I eat Hokkien Mee. The chicken wing on the other hand is actually better than average. Not the best but worthy of mention. The taste is a little unique and it is not overly heavy on the five spice powder. I would order this again. 4/5
Conclusion
Traditional little coffeeshop where you still get to see the hawkers frying their stuff on the outside. With a Hokkien Mee, Oyster Omelette and a Satay stall, it would almost seem that it is a coffeeshop designed to be a supper place. Definitely a place to put on your supper list.



The stall has moved to 965, Upper Serangoon Road, Singapore 534721

Thanks to David Wong for the update


Update: 18 Oct 2012
Went there recently and the oyster omelette was excellent! So the ratings have been revised to 4.5/5.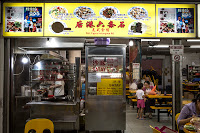 Thanks to Sen for the video link!