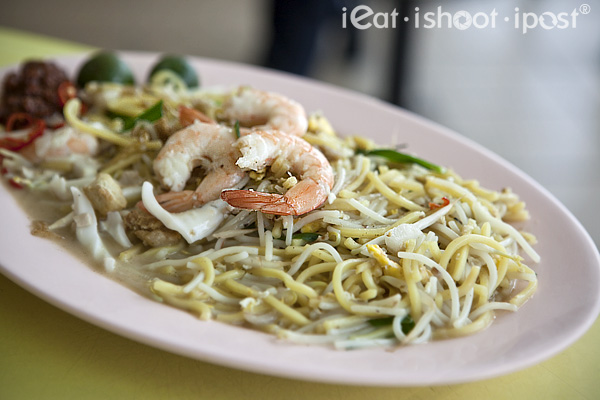 All good things must come to an end.
So it is with a matter of urgency that I got an email about this 30 year old stall in Pasir Panjang whose owners are now planning to hang up the wok and spend the rest of their days shaking their tired legs and enjoying a bit of what life has to offer.
Those readers who live on the Western parts of Singapore always complain that I never head out West to blog. Well, there is good reason for this. First, I live and work in the East, so it is a bit of a hike to go out West and secondly there are not as many good food places out West as there are in the East. So, when I got this particular email telling me about this Hokkien Mee Stall, I thought I'd better get my camera out West, especially since they might not be around anymore next year!

The first unique thing about this Hokkien mee is that fact that it is fried by a lady. If you have read my book, "The End of Char Kway Teow" you would know that there is one page that showcases nine of the most famous Hokkien Mee MEN in Singapore. So a lady frying Hokkien Mee for 30 years is quite special. Actually, I grew up eating Hokkien Mee fried by a lady back in the 80's in Toa Payoh Lor 8 just opposite Blk 229. (Anyone else eaten at this stall?) I learnt the steps of frying Hokkien Mee by observing her while she prepared my packet of Hokkien Mee to bring home. The Hokkien Mee here reminds me of the type of Hokkien mee that that Aunty used to fry. It's wet and gooey and slurpiliciously good. 4.25/5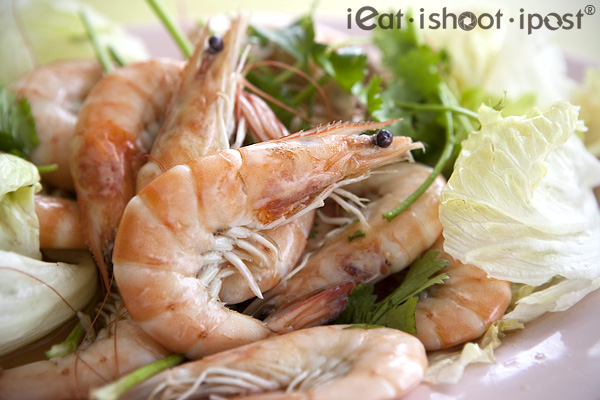 Drunken Prawns $10
I must make special mention of the prawns they use here which is very sweet and tasty. They are not the "Sua Lor" prawns that are traditionally favoured by Hokkien Mee hawkers, but they are one much nicer than the very common Tiger Prawns used by many stalls nowadays. They are so good that you can actually buy a plate of drunken prawns for $10 in order to get your prawn fix! It's probably the cheapest place to eat drunken prawns! 4/5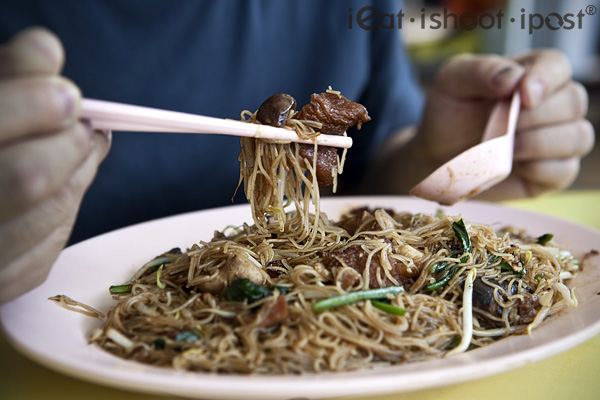 Braised Pig Trotter Bee Hoon $8
If you are tired of the same-o, same-o, then you might like to try their braised pig trotter bee hoon. There really isn't any big secret to this dish. The braised pig trotter comes out from a can and is mixed into the bee hoon after it is has been fried so that it can soak up that yummy gravy. I guess it is a bit like ordering a luncheon meat sandwich or spam steak at the restaurant or even a $3.50 bowl of instant noodles with an egg poached in it. But hey, its still good, and no one complains when you order Milo at the coffeeshop right?
The flavour was very good and I like how that bee hoon soaks up the sticky sauce. It would have been better if the bee hoon were fried a bit more and there was more sauce as it was a bit dry. 4/5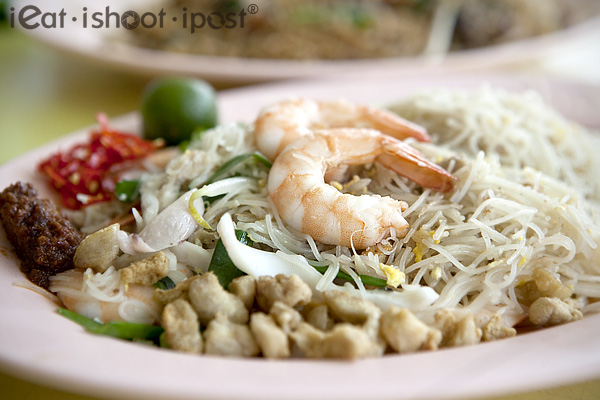 Fried Bee Hoon
Bee Hoon as a staple form of carbohydrate is actually very nice but has unfortunately been relegated to being an ubiquitous dish at catered buffets. The reason they love to use bee hoon is because it can be stored and rehydrated when needed, which makes it easy for the catering business, rather than having to procure fresh Hokkien noodles or Kway Teow. What's worse is that when they use Bee Hoon as the main star of the dish, they go and call it "Mee" instead, as in Mee Siam. It should really be called Bee Hoon Siam right? And when it shares a 50/50 limelight in a dish like Hokkien Mee, it doesn't even get a mention. In the old days, I have heard it being called Fried Hokkien Bee Hoon Mee, but nowadays the poor "Bee Hoon" got conveniently dropped.
There are a few stalls which sells Fried Bee Hoon. The dish is however not easy to define as each stall has their own style. The underlying characteristic is that it is bee hoon that has been fried with some ingredients added. Most of the time, I find that it is the Hokkien Mee or Char Kway Teow sellers who sell Fried Bee Hoon as an extra dish. I have yet to find a stall that actually specializes in Fried Bee Hoon, except for the one opposite Sembawang Shopping Centre. I had it when I was doing reservist earlier this year but found that it wasn't compelling enough to blog about. There is of course the JB Chao Tar Bee Hoon, but that is a dish unique to itself.
So, if you like to eat fried Bee Hoon, here is a stall that will fry it for you. Basically, its Hokkien Mee minus the Mee and the prawn stock. It's nice, but I can understand why it is not the main star of the stall. 4/5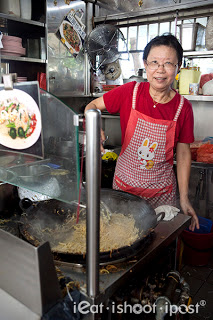 Conclusion
Now its time to say good bye to all the family…… If you are a fan of the stall, you will definitely want to catch it before the owner retires for a well deserved rest!