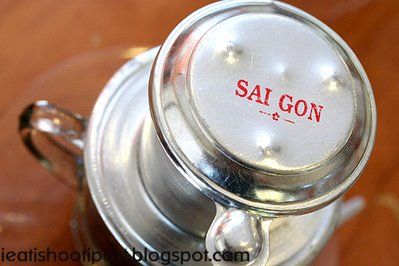 The Saigon Deli is not there anymore and we don't have any idea if they have moved or if they have gone back to Vietnam. If you know please let us know ok?
With mien and iwatch_ueat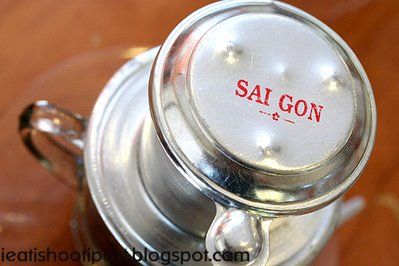 I first got to know about this little eatery through Channel 8 Ter Sie (Special Report) programme whose story centred on the life of this interesting Vietnamese Lady living in Singapore who missed her homecooked food so much that she started a restaurant. But the problem was that mediacorp did not publish the address or even the name of the eatery!
As fate would have it, I came across an entry by MT88 in a forum on it which showed pictures of some interesting eats and most importantly, the address of the place!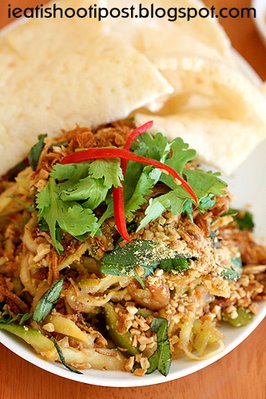 Vietnamese food is very light especially when compared to neighbouring Thailand. There's much less use of coconut mik, so you don't get your rich curries. Instead, you have light and refreshing salads, clear soups and lots of different manifestation of rice; like rice wrappers, rice vermicilli and kway teow.
This Mango Salad is a wonderful example of how aptly the sweet, tangy and salty tastes of the salad, as well as the texture of the mango and carrots perfectly complement the other meat dishes. $4.80 4/5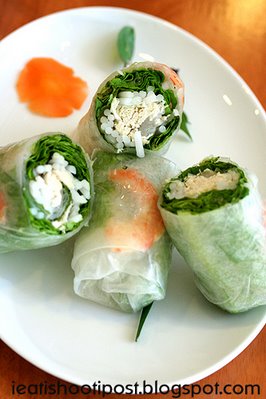 nei
Probably the most iconic of Vietnamese cuisine are the Summer Fresh Rolls which are a favourite especially amongst Ang Mohs (Westerners). The combination of the chewy rice wrapper, crunchy salad, thick vermicilli and mint leaves with the killer sweet, sour, spicy peanut sauce can be quite tasty and refreshing at the same time!. $4.80 4/5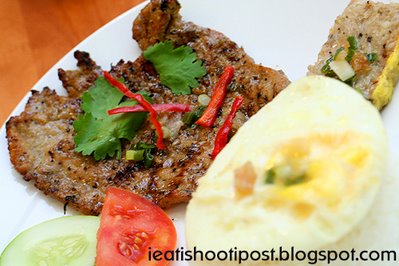 Now we come to what I really really liked. The grill pork chop with rice looks like a simple dish, but that pork chop has been marinated with such a delightful combination of spices that my stomach is beginning to growl even while I am typing this blog. Most of the dishes here come with variations of a mysterious clear sauce which tastes like a combination of fish sauce, vinegar, sugar and various spices. $6.50 4.5/5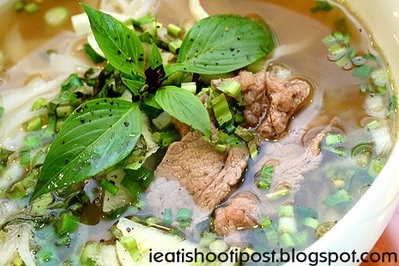 The soup in the Pho (Kway Teow Soup) is light and yet robust. The sweetness of the soup comes from boiling beef leg bones for more than 15 hours. The soup is very tasty and they are very generous with the Kway Teow, so one bowl will be enough to fill you up! $4.80 4/5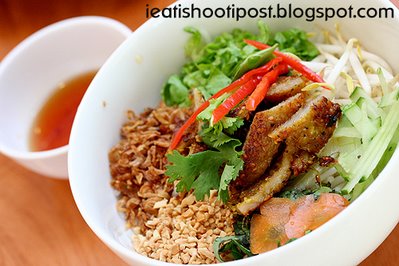 Out of curiosity, we tried this Grilled Lemongrass Pork Chop with Tossed Rice Vermicelli (Think Gon Lor Mee with thick Bee Hoon) Again, very little oil is used, instead you pour yet another version of the mysterious clear sauce into the bowl and mix the Bee Hoon with the peanuts, shallots and the salad. Good, but not as good as the grilled pork chops! $5.80 3.5/5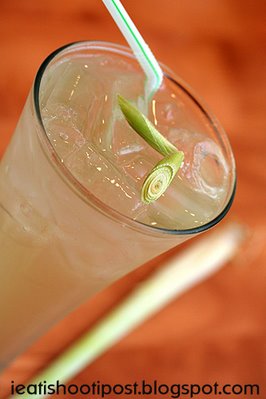 There were many authentic Vietnames drinks offered. We tried the pennywort which was like a watercrest drink as well as the sour plum which was quite "Power". The one which I really enjoyed was the lemon grass and honey as seen in the picture above. Light and very refreshing. $2.50 4/5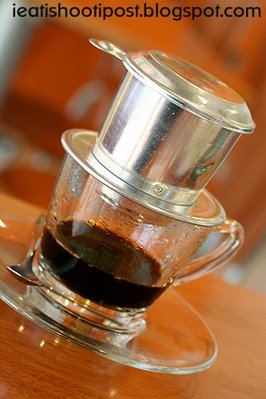 What better way to finish the meal then with a cup of Vietnamese Coffee which (I'm told) the Vietnamese drink 3 times a day! After dripping throught the percolator, you add the coffee into a glass of ice and enjoy the caffeine rush!
Conclusion
Great experience for me since the last time I ate Vietnamese food was while I was living in Thailand which was a few years ago. Interestingly Vietnamese cuisine in Thailand is considered a higher class of cuisine much like how the street food of Thailand is sold here for 5 times the price in a restaurant.
Vietnamese food is quite healthy as it does not use a lot of oil and coconut milk. Quite good if you feel that you need a cholesterol break! I enjoyed it! My only grouse is that the portions of meat are a tad small and I would really need two portions of grilled pork chops to satisfy my craving!
8/10 (T3, V2, S2, E1)
Acknowledgement: MT88 recommmended this in the asiaone motoring forum!