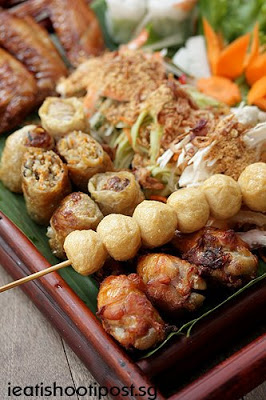 Starter Sampler $29.90 (6pax)
This is a wild guess, but I reckon that more women like Vietnamese food than men. We are talking about Singaporeans of course. The reason I say this is because Vietnamese food is pretty healthy and low in oil and coconut milk. I think if we did a survey, the number of women putting up their hands should at least be twice the number of men.
I have been to Vietnam only once, but the place that I ate Vietnamese food most was in Australia and Thailand. It's funny, but in Thailand, Vietnamese food is regarded as a higher class of cuisine than the local fare. It's very much like how we compare Thai food to our local hawker food.
When you feel that you have had a little too much rich food, than going to Vietnamese restaurant to eat something light and satisfying like the salads and summer rolls might just be the way to go. For starters, we had the sampler which had three different types of salads and they were all refreshingly good. It's the combination of fish sauce, vinegar and palm sugar that gives the salad that kick. 4/5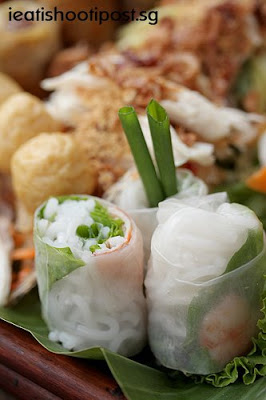 Summer Rolls with prawns (Guoi Cuon) $8.90 (2 rolls)
Summer rolls might seem like a very simple dish to do since it really is just rice skin, vermicilli, prawns and mint leaves. However, it is a bit of a challenge to rehydrate the rice skin to just the right texture so that it has that nice gummy bite to it. For me this dish always epitomizes healthy eating. Having tasted this dish quite a few times, I am confident to say that the summer rolls here is almost as good as it gets. 4.25/5.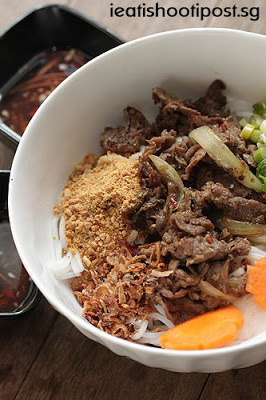 Stir Fry Beef Vermicilli (Bun Bo Xao) $10.50
The dish of the day for me though, was the dry beef vermicelli. The fragrant lemongrass marinated beef combined beautifully with the vermicelli, ground peanuts and other condiments. It's tasty, yet contains very little oil so you go away with a satisfied tummy and a clear conscience. 4.25/5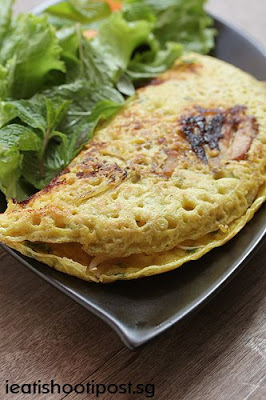 Vietanmese Pancake (Banh Xeo) $10.90
Vietnamese pancake is a sort of rice flour pancake filled with bean sprouts, prawn, chicken and mung beans which I surmise must have been a Vietnamese adaptation of the French crepe. I have had this many times in Thailand before and all the crepes always came very thin and crispy. The version here has got a thick chewy pancake which I felt was a tad too heavy. Would have preferred it thin like a Thosai. Then again they have thin and crispy as well as pan pizza to cater to different types of people, don't they? 3.5/5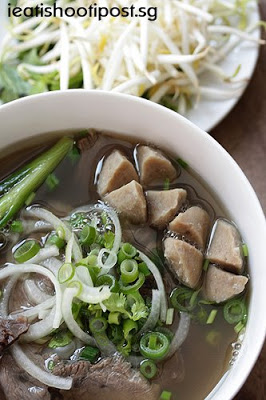 Beef Pho $8.90 (Special)
How to blog a Vietnamese joint without the Pho? This is as Vietnamese as Hokkien Mee is Singapore. To have good Pho, you need lots of good quality beef bones. The Pho that they sell in Cabramatta, Sydney are really good because they have lots of cows in Australia, so bones are cheap which explains how they get their soup to be really robust and sweet. I guess in Singapore, it is harder to do the same. Despite that, they did managed to produce a pretty good Pho here which is good enough to satisfy a Pho craving. 4/5
Conclusion
If you feel a need to eat something light and tasty, Vietnamese cuisine is a good bet. Madam Saigon is a comfortable little eatery with friendly service and several items which are worth trying.
So, am I right is saying that there are more women than men who enjoy Vietnamese food?
Carlene introduces us to Madam Saigon!
Just trying out some new things with my Creative Vado. Let me know what else you think might be interesting for short clips.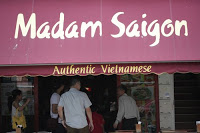 Mon-Fri 11.30am – 3pm, 6pm to 11pm
Weekends, PH, 12pm-4pm, 6pm to 11pm
Disclaimer: This was an invited review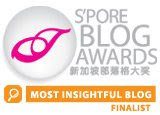 Vote today! Click here