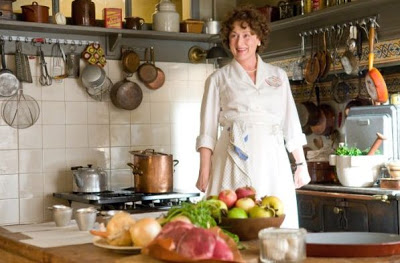 Advertorial

There's nothing like a film on cooking to get your cooking juices simmering!
For those of you who don't cook, you really are missing out on one of the most basic joys of life.
Cooking is as much an art as it is a science but unlike many other artforms, with cooking, you don't need a lot of space to keep your work of art since it usually ends up in your stomach. But that's not before you get everyone's praise and adoration for the work you put into making their tongues tingle which is the main reason many of us cook. I mean, cooking for yourself is just about as satisfying as hitting a hole-in-one when no one is watching.

My mother was a chef and a great cook and I would spend many hours just observing how she cooks in the kitchen. I actually remember the very first dish that I learnt to cook. I must have been about 12 years of age. It was a simple Chinese Sausage (Lup Cheong) Omelette. But it wasn't as simple as you think because the trick is to fry the sausage first and then add the cooked sausage to the beaten eggs before returning it to the pan. (It should be called a Frittata if you want to be pedantic)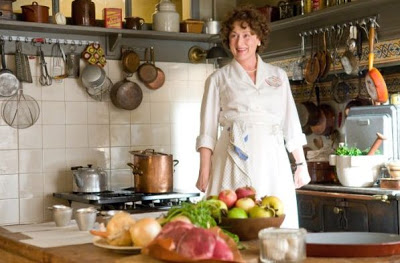 Watching Julie and Julia, one can't help but want to get home and start cooking something. Lucky for me, Nuffnang not only wanted me to write about the movie but also to attend a 2 hour cooking class where I will get to cook some of the dishes from the movie.
Oh Joy!
Maybe I will get to make a Lobster Thermidor just like how Julie Powell did in the movie. Of course unlike Julie, I won't have any second thoughts about how to kill a Lobster. Knife in between the eyes and you would destroy the brain and death would be immediate and painless. Ok, we doctors are usually more adept at keeping things alive rather than putting things to sleep. That is the specialty of the Vets. But we do know a thing or two.
But seriously, the most humane way to kill a Lobster is not to just throw it into a pot of boiling water like what Julie did in the movie but to put it in the freezer first. That way, the last memory of the Lobster would be snow in Christmas before it finds itself waking up in Lobster heaven.
But I guess they did not prepare any Lobster for us that day. I wonder why?
Instead, we were to prepare Bruchetta, Poached Eggs with Hollandaise Sauce and Apple Tartin. Ok, Bruchetta isn't likely to appear on Julia Child's "Mastering the Art of FRENCH cooking" (It's Italian) but I guess it did appear in the scene just before Julie decided to focus her energy into starting a blog based on the book.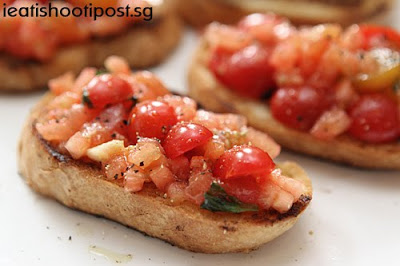 My Bruchetta
Bruchetta, which I am sure you all know, is toast with tomato salsa. Call it toast with tomato salsa and you can probably sell it for $1. Call it Bruchetta and you can sell it for $5. On the surface, it is basically chopped tomatoes, dressed with Olive Oil, garlic, salt and vinegar on toasted "Jiam Tao Loh Di" (French loaf or more fashionably, Baguette which Phua Chu Kang would purpurly pronounce BA-GU-WET).
But as with all things, the devil is in the details. Instead of raw garlic, our instructor Chef Alicia taught us to use Garlic Confit which is basically garlic that has been slow cooked in light olive oil for 2 hours at 150 degrees celcius. The cooking basically mellows the garlic so you can't really use it to ward off Dracula, or your mother-in-law, whichever is more scary.
In the movie, Julie fried her baguette in a pool of butter and when husband Eric ate it, it just made me want to go out and get a bruchetta! So when our instructor gave us the option to either toast our baguette with olive oil or fry it in butter, I obviously wanted to have a go at the real butter deal. Mine was rich but oh so good, but I must admit that for health reasons, I would go with the olive oil version next time.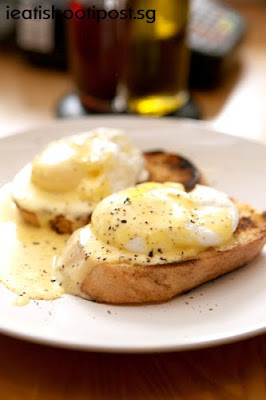 My Poached Eggs with Hollandaise Sauce
The second dish we learnt was poached eggs with Hollandaise sauce. This is the building block of Eggs Benedict and Eggs Florentine. So you start with a poached egg, put it on top of your baguette and add a slice of sauteed ham and Voila! Eggs Benedict. Substitute the ham for spinach and Voila! Eggs Florentine.
Poached eggs are supposed to be healthier for you because the egg is basically cooked in water as opposed to being deep fried in artery clogging Palm Oil which is the more familiar egg that we love to eat with our Nasi Lemak or Hainanese Curry Rice (They call it Zha4 Dan4). Now, in case you are going to run to the kitchen to crack an egg into boiling water, the secret is to add vinegar to the water first. Acid helps the protein in the egg white to coagulate just like how lactone turns soymilk into tofu.
The French aren't happy with the fact that poached eggs are healthier for you, so they have to top it with a nice and creamy Hollandaise sauce which is basically butter and egg yolks whisked over a bain marie. Let's see, one egg contains 212mg of cholesterol and your daily requirement is 300mg. Hmmmm, one poached egg, plus one extra egg yolk, plus a stick of butter means you probably spent 3 days worth of your ration of cholesterol on this one dish….
But man, it was good.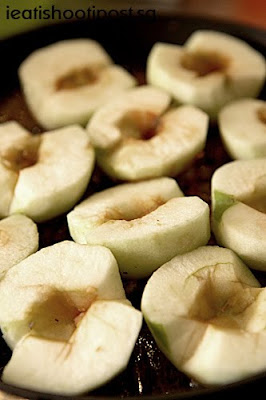 Caramelizing the apples for the Apple Tartin
Our final dish was the Apple Tartin which is caramelised Granny Smith apples topped with a puff pastry that will eventually be turned over to become the base of the tart. To make this dish, you would need one of those pans with a metal handle so that once the apples are cooked, the puff pastry is simply put on top of it and the whole thing is placed in the oven.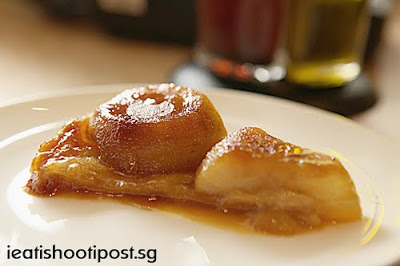 Apple Tartin
The apple tartin made its appearance in the show when Julia Child flipped over her apple tartin during one of her cooking classes. I can't really remember what she actually said which is why I am planning to watch the movie again. It was one of those movie scene that sticks in your head for a long time.
This whole movie and cooking session has really stirred up my interest in French cooking. So that just means you might expect to see more of this subject on the blog in the near future!
Oh and btw, if you are interested to attend a cooking class, you might consider looking up Palate Sensations. They have a beautiful and cosy kitchen and both Chef Alicia and Boss Chef Lynette are excellent teachers.
As Julia Child would say: BON APPETIT!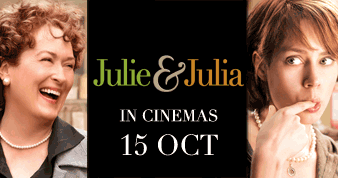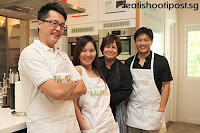 From left, Rayner (His Food Blog), Patrica (My Wok Life), Chef Alicia and me