This Stall is Closed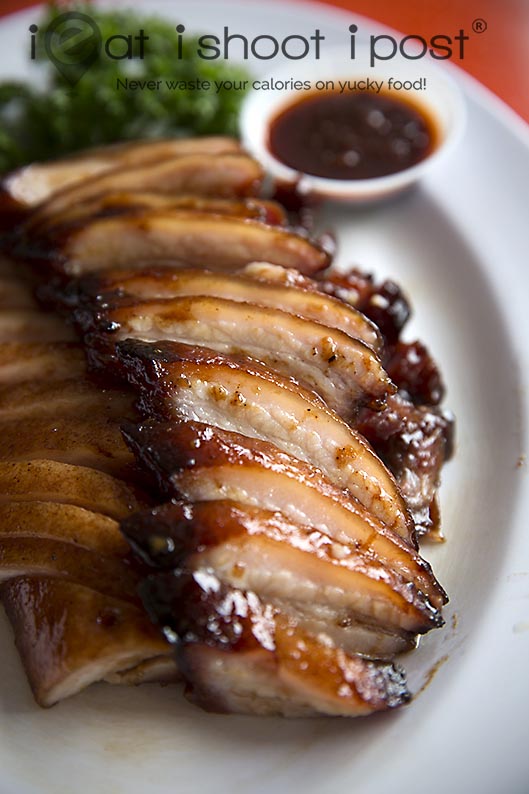 There is one memory of Cantonese Roast that has been ingrained in my mind and that was of Jia Le Roasted Meats when they were still at Suntec City Republic Food Court.  It wasn't just the glistening reds and stunning bits of char on the charsiew that mesmerized me but the variety of roasted critters that were available.  Aside from the standard roasted pork belly, duck and charsiew, there were suckling pigs, palm sized quails and resplendent racks of ribs.  If you are a carnivore at heart,  you'd probably be stricken-ed by the burnt offerings and be stunned like a vegetable.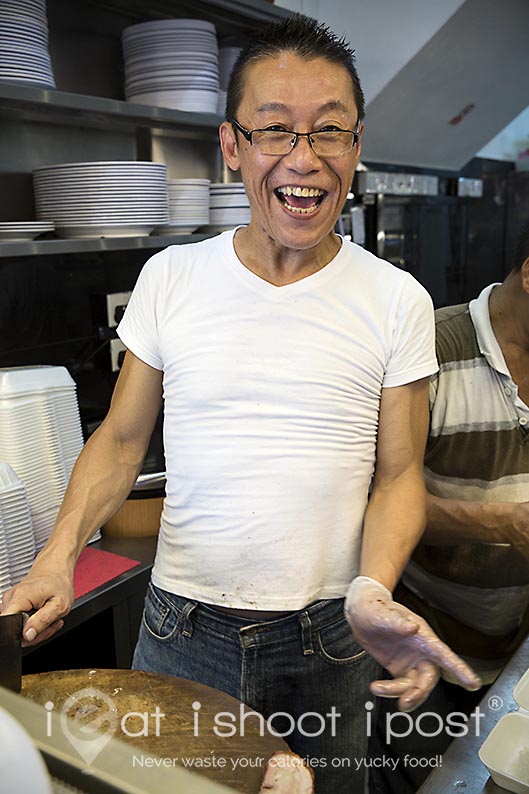 Jia Le fans would be very happy to know that Chef Charles Tan has since left Food Republic and has ventured out to open his own Cantonese Roast shop in an old shophouse in Aljunied. Gone are the high rentals and stylish upmarket displays.  In its place is a simple standalone eatery that is reminiscent of the Cantonese Roast shops in Hong Kong.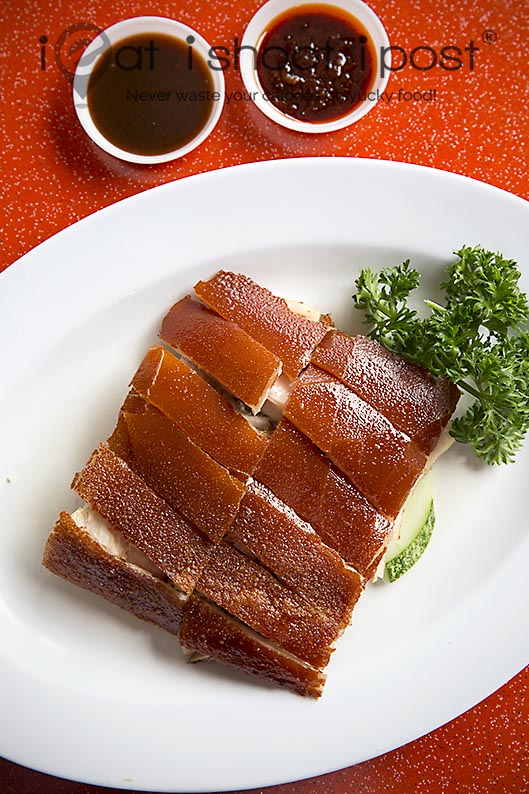 Jia Le is one of the few Cantonese Roast shops which specialize in roast suckling pigs.  It has only been opened for a few months, so Chef Charles is waiting for business to pick up a bit more before he starts offering some of his other roasted items like quail. The suckling pig is roasted till the skin is blistered and each sliver of skin is shatteringly crisp with a thin layer of meat five spice and hoisin seasoning brushed on the underside.  Some of our kakis have commented that the meat had a strong porky flavour that day.  I asked Chef about this and he apologetically tells me that this does occasionally happen in about one out of ten piglets that he roasts.  His piglets are sourced from Hunan, China which he says are the best for roasting but it is sometimes difficult to ensure that all the male piglets have been castrated properly.   The suckling pig rice sells for $7 a plate and comes with 6 slices of suckling pig.  4.25/5
The charsiew is one of their most  popular items here.  Chef uses both collar and belly cuts for the charsiew which means that there is usually enough fats to ensure that the meat is nice and juicy.  There are of course leaner cuts which you can request for. If you go there after the peak periods, they will make the extra effort of heating up the charsiew in a toaster oven so that the char siew is nice and juicy again.  Chef will occasionally offer Kurobuta charsiew as well which goes for $8 per portion with rice.  You can also specially order the kurobuta charsiew if you call up a day earlier (minimum 1 kg).  I am trying to get Chef to use Iberico pork to see what it would taste like!  Won't you like to try too? 4.25/5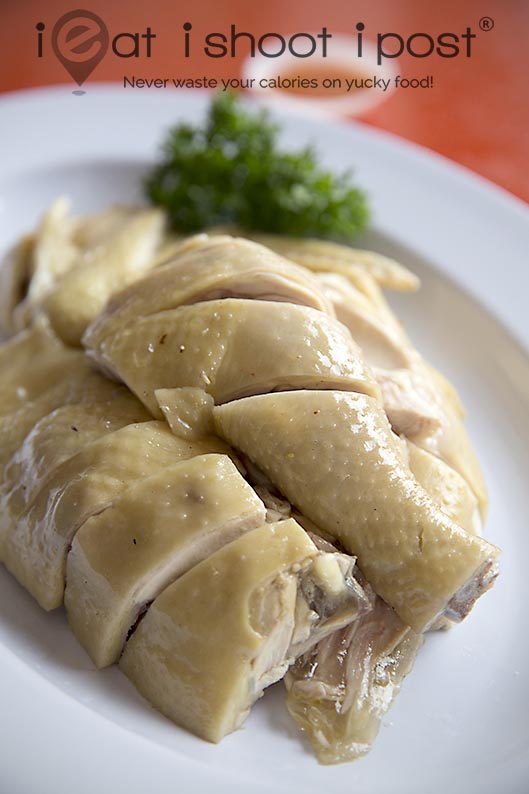 The guifei (贵妃) chicken is another dish which is not readily available elsewhere.  Although it looks like chicken rice chicken, it is actually quite different.   The name is inspired by a famous opera called 貴妃醉酒 (guifei zuijiu – drunken consort) which is based on the life of Yang Guifei, one of the 4 famous beauties of ancient china.  Yang Guifei was famous for her alluring beauty as well as having a full (voluptuous) figure which may one of the reasons the dish is named after her.  What makes guifei chicken different from the normal chicken rice chicken is that that poaching liquid is seasoned with wine, dried scallops and dried shrimps so that the meat is inherently tasty without needing a sauce to give it flavour.  All of the kakis loved it!  4.5/5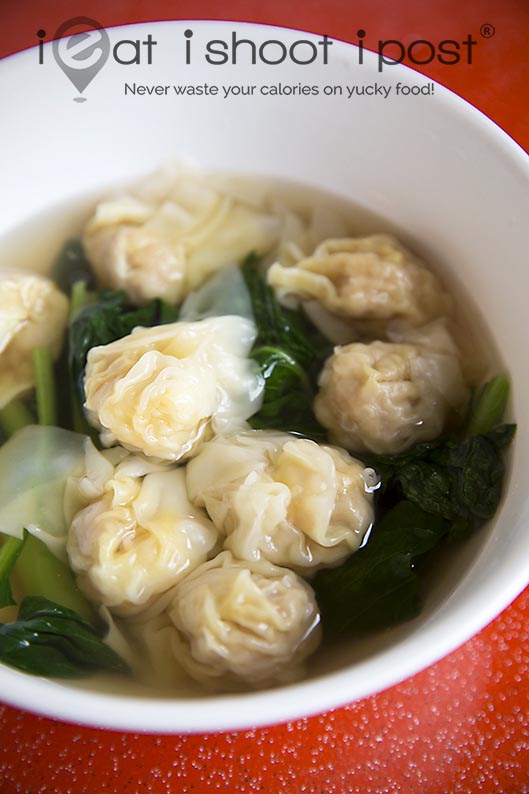 The wontons are also worth ordering.  They are done Hong Kong style which means that they are filled with minced pork and prawns.  Chef also adds water chestnuts to give them a bit of crunch.   I asked Chef what was the difference between their sui gao and wanton and was given the cheeky answer — "the shape!" 4.25/5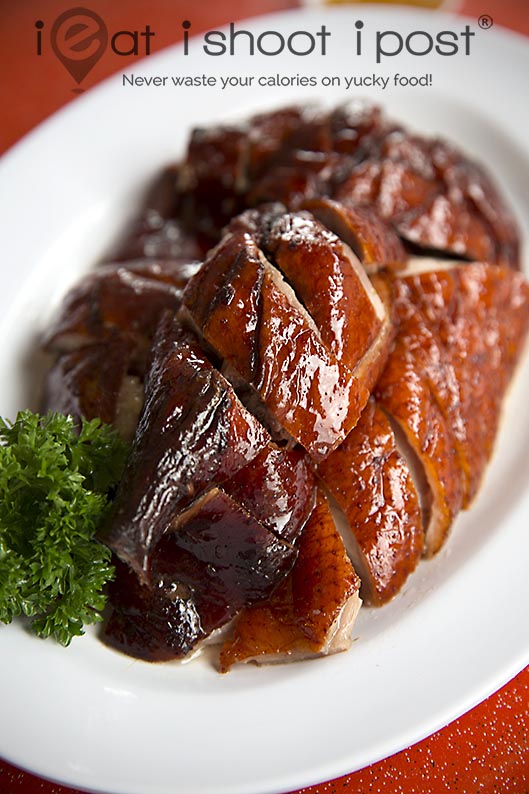 By chef's own admission, no Cantonese Roast shop can excel in everything.  He feels that his two best dishes are the charsiew and guifei chicken.  The rest are very competent but he would not make the claim that they are the best in Singapore.  These would include the sio bak and roast duck.  I found the sio bak to be just slightly dry and the meat is not as tasty some other places.  The roast duck is good but not exceptional.  Both of these roasts good enough as a supporting cast but not as the main star. 4/5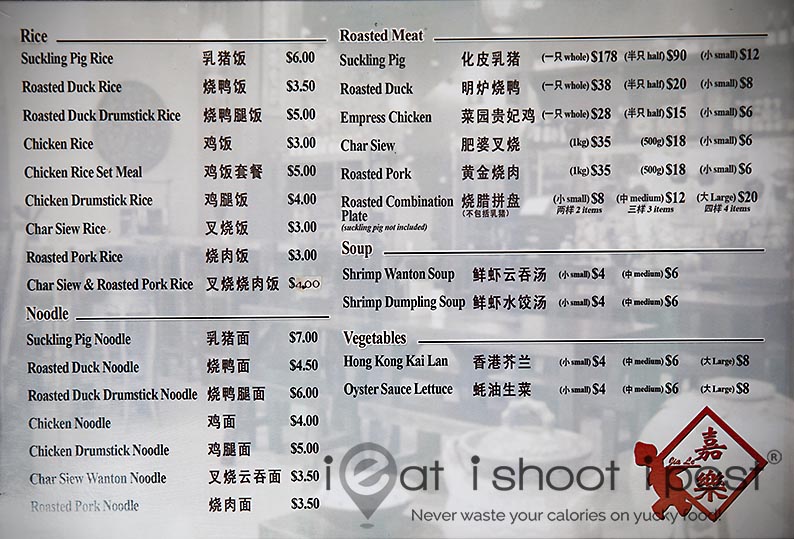 Conclusion
Jia Le has the distinction of being one of the few standalone Cantonese Roasts in town with items like suckling pig and guifei chicken which is not usually found in your typical hawker centre stall.  Chef has a big kitchen behind where he prepares all his roasts.  The bigger space means he can easily cater for special orders like kurobuta charsiew or anything else you might dream about eating.  The place is air-conditioned but the decor is kept simple.  Parking is a bit of a problem as there is never a parking lot outside of the restuarant during peak periods.  Your best bet is to park at the multi-storey car park just behind Prime Supermart along Joo Seng Road.