Advertorial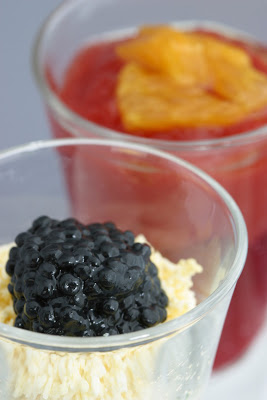 Snow and Egg Cavier – Tetsuya's
It is really too bad that I only starting blogging about food recently. I should have started back when I was living down under. OK, blogging wasn't around then and neither was the internet so I guess people in those days must have kept a food diary of sorts. Gosh, those where the days when you had to ring your friends to ask for recommendations about where to eat! And sometimes you couldn't reach them cos mobile phones weren't readily available too.

Australia used to be quite a one dimensional country when it comes to food. I am talking about the days before they started their immigration policy back in the 50s. It was then that the first wave of migrants come from Southern Europe, predominantly Italians and Greeks to escape the ravages of a war torn Europe. Now it is said that half of every Australian has some Italian blood in them and that Melbourne has the largest population of Greeks outside of Greece. Then there came the wave of Hong Kong migrants in the 80's and 90's who made their home in Australia due to uncertainty of what was going to happen after the territory is returned to China.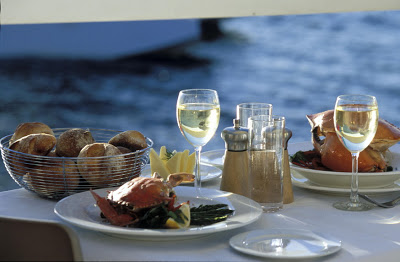 Seafood by the Sea without the humidity
What all this immigration means is that Australia is truly a foodie's paradise with authentic cuisines from all parts of the globe. These migrants congregate together and literally take over whole suburbs. So in Sydney for instance, Leichardt is the area where there is a lot of Italians and consequently, a lot of great Italian food. The best pasta dish I ever ate was right there in Leichardt in a restaurant called Portofinos. I remember it was a really simple Penne with Chicken in cream sauce but somehow, there was something in that dish that makes me think about it 15 years later.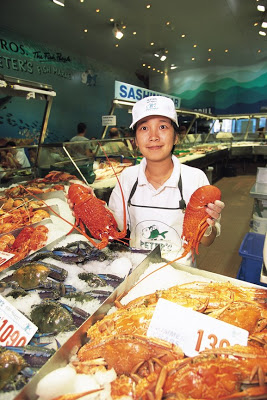 Fresh Seafood from the Fishmarkets
The thing about Australia is the wonderful and fresh produce, be it seafood, meats or veggies and fruits. So when migrants from Hong Kong got there, they combined their wonderful culinary skills with the produce and cooked up dishes that rival or even surpass that of Hong Kong. How is this possible? Well, imagine what a Hong Kong Chef can do with a Tasmanian King Crab. This is definitely one of those things which you have to eat when you are in Australia. The crab is huge and can weigh up to 13 kg. That is a lot of succulent crab meat! I don't know how much it is now, but when I graduated from Med School, the first thing I did with my first paycheck was to bring my family to eat Tasmanian King Crab at a Chinese Restaurant in Sydney. The Crab was cooked in three courses and my Mother-in-law even brought the arm length pincer back to Singapore. At that time, it was going for about $30 per kg, so that meal sort of wipe out half my paycheck. I am serious! As a houseman I used to earn $1800 per month. Fifty percent of it was taxed, so I took home only $900. That crab cost me $330 (You never forget such an expensive crab) and the rest of the dishes came up to almost $500. So that meal really did cost half my paycheck!

Tetsuya Wakuda
I have two regrets when I think back about my time in Sydney. The first is that I never took my classmate, Terence Kwan's advise to go eat at Tetsuya's when the reservation list was still in the weeks rather than in the months. Tetsuya's is probably the most well known restaurant in Sydney which is run by a Japanese born chef who migrated to Australia, worked his way up from a kitchenhand to become one of Australia's best known chefs. Tetsuya's menu is like every other really famous restaurants. You don't get to choose what you want to eat, you just go there and get served what the chef thinks you should eat.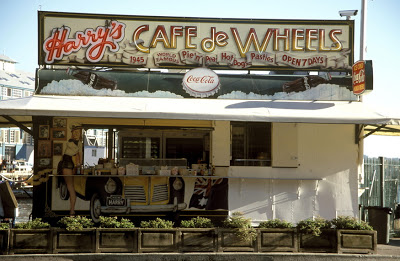 Harry's Cafe de Wheels
The other regret that I have is that I never went to Harry's Cafe de Wheels. This is probably one of the most famous pie restaurants in Australia and its still like a little makeshift shop by the road. Pies are to Australians what a plate of Chicken Rice is to us Singaporeans. It is what every Aussie craves to eat when they get back home. (Ok, maybe not every Aussie, but when I get back to Australia, I usually make sure I get to eat some meat pies). The thing with Harry's is that they have been around for over 70 years and is a bit of an institution. The next time I am back in Sydney, I am going to get down to Woolloomoolloo and get me one of those pies with mushy peas piled over it.
Now, you might not think about eating Thai food in Australia, but I tell you that I first fell in love with Thai food while I was living in Australia, a love which I maintained when I lived in Thailand, but which I eventually lost when I came back to Singapore. Believe me, the best Thai Food in the world (in my world at least) is in a little restaurant in the suburb of Epping in Sydney called Tom Yum Thai. Until today, the best green curry chicken and red curry beef that I have eaten is made by the Thai chef in this little restaurant. When you eat here, one bowl of curry is all you need to down three bowls of rice. It is really that tasty. If someone were to offer me to fly anywhere around the world to eat Thai food, I'd sooner fly to Sydney than Bangkok!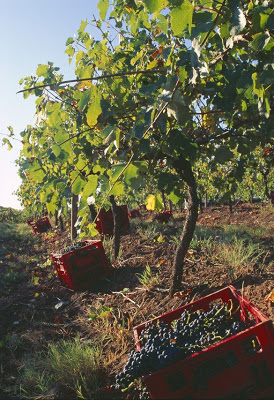 Grape harvesting
If you are planning a food tour to Australia, then a Wine and Cheese tour of the wine growing regions is a must do. There are wine growing regions in most of the Southern states of Australia. Among the most well known are the The Hunter Vally near Sydney, Barossa Valley near Adelaide and Margaret River near Perth. Now, a Wine and Cheese tour really does fulfill the deepest desire of every Singaporean which is to be able to go to somewhere and just eat all the cheese and drink all the wine for FREE! Just remember to be "Jee Dong" and buy some bottles to bring home yeah? If you are just getting into wine or are planning to, then a trip to a vineyard is a necessary step towards vino enlightenment.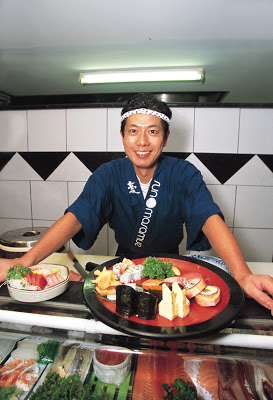 Oh, before I forget, I want to tell you that you get really good sushi in Australia as the Coast of Australia are the natural habitat of the bluefin tuna and other seafood delicacies. So a visit to a Sushi restaurant is a must, as is a visit to the fishmarkets. At the Sydney fishmarkets, you get to handpick your fish and lobster and sit down by the water to enjoy your meal. They sell plenty of sushi right there at the fishmarkets too.
Speaking of Japanese food, you really must try Teppanyaki in Australia. Over there, the Teppanyaki chefs really have lots of fun with the patrons. It is not uncommon for the chef to hurl eggs into the air for patrons to catch with their bowl or using their scrapers to shoot pieces of fried egg into the mouths of patrons. Expect them to throw bowls of fried rice into the air for you to catch!
One of the great things about being a food blogger is that we are part of a fraternity with instant friends from all over the world. So I contacted the bloggers at eatshowandtell.com, one of Sydney's most popular food blogs and they have very kindly listed their Top eats in Sydney for us. They have also very wisely divided them into gourmet and cheap eats category. Thanks very much to Teresa and Howard of eatshowandtell.com.
Top 10 gourmet restaurants (Tetsuya's is in a class of its own)
In no particular order:
Marque, Surry Hills (French)
Pier, Rose Bay (Seafood)
Berowra Waters Inn, Berowra (French)
est, Sydney (Seafood)
Becasse, Sydney (French)
Longrain, Surry Hills (Thai)
Grand National, Paddington (European/french)
Fish face, Kings Cross (Mod Oz)
Azuma, Sydney (Japanese)
Four in Hand, Paddington (French)
Top Cheap Eats
Mamak, Chinatown (for Malaysian)
Ryo's Noodles, Crows Nest (for ramen – great fish stock ramen)
Gusto's, Paddington (for cafe style food)
Danks St Depot, Waterloo (for brunch – creamed eggs in truffle oil)
Bills (for brunch. they have very nice breakfast foods)
Thainatown, Chinatown (Quickest, yummiest, and cheapest pad thai and food in general)
Chat Thai, Chinatown (Very popular Thai food)
Campos, Newtown (Best affogato and coffee)
Single Origin Coffee (One of Sydney's best coffee joints. Only open on weekdays)
Toby's Estate (Another great coffee joint. Lovely coffee beans)
Jasmine's, Lakemba (Lebanese food)
Juju's, Kings Cross (Authentic Japanese)
Masuya, Sydney (Japanese. Fresh raw fish and very polite service)
La Disfida, Haberfield and Rosso Pomodoro (Authentic italian pizzas)
Prime, Sydney (for steaks)
Adriano Zumbos, Balmain (Desserts/macaroons.)
Lindt Chocolate Cafe, Darling Harbour/Martin Place (Chocolate lovers!)
For more places to eat, check out their excellent food blog: eatshowandtell.com
So, if you are thinking of a food trip to taste food from all over the world, all you really need to do is head downunder. Its a great time to fly now when Qantas is offering to fly to two cities for as low as $869!
Check out the great Come Walkabout in Australia offers at www.australia.com or call 1800-GO-TO-AUS (1800-46-86-287) to speak to an Aussie Specialist travel agent now.
For more information about the special promotion, please visit www.qantas.com.sg

All photos are copyright Tourism Australia