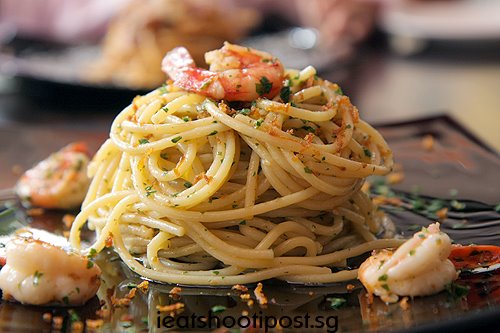 Sardinian Style Spaghetti with olive oil, mullet roe, chili, garlic and Mediterranean prawns $22++
There is only really one ingredient that you need for really great food, and that is passion. But not just passion, you really need unbridled passion that defies practicality.
So many times I have met with Chefs who are passionate about their cooking but somehow they are held back. If they are working in someone else's kitchen, it is always the boss who clamps down on food costs. When they are the owner, they have to think about keeping the business afloat and time with their families. So the initial fiery passion gets toned down to a slow simmer.

When it comes to pasta, a good freshly made pasta is not so easy to find in Singapore. Most restaurants resort to using dried pasta, albeit good quality ones, because it is said that the weather in Singapore makes it difficult to duplicate the fresh pasta that you get in Italy. So practicality tells you to just do what everyone else is doing and just order your pasta. But passion insists that you somehow find a way to do what you believe is how pasta should be eaten.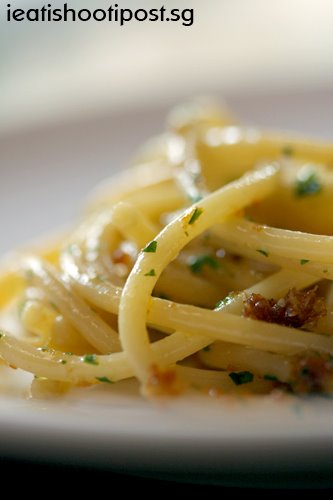 Freshly made Spaghetti: Excellent texture and bite
Like most Singaporeans, I am used to eating dried pasta. By now everyone knows that pasta needs to be eaten "Al Dente" which basically means that it is still firm to the bite and not overly soft such that it has the texture of the canned alphabet soup. The way to do this is of course, not to overcook it. However, sometimes I feel that in their enthusiasm, inexperience cooks actually undercook their pasta such that it comes out still too hard. Yes, you can cook it till the white in the middle just becomes translucent but I feel that the perfect bite is a point somewhere in between that and it becoming too soft. What you really want is a pasta that has enough chewability but tender enough so that it is starchy rather than crunchy.
All the pastas at Cugini are handmade by the two Italian chefs who are like two boys having a lot of fun in the kitchen. Most of the time, I find that freshly made pasta lacks a certain amount of bite. But I had the most wonderful experience last week when I took my first mouthful of the spaghetti. The texture is really very special and definitely one of the most satisfying pastas that I have tried. It has enough bite in it but still tender and the feel of the spaghetti as it slides into the mouth is excellent. 4.5/5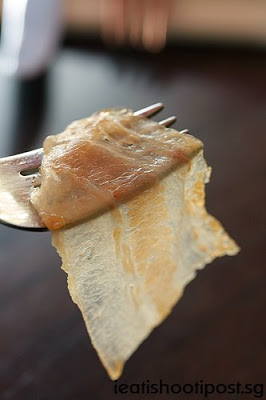 Thinly sliced Guanciale (Cured Pork Cheek) Taken from the pizza topping
Now, I'd be happy just eating the Spaghetti here with some olive oil and Parmesan cheese. But if you are looking for something with a more robust flavour, you might want to try the Amatriciana. This is quite special as are a lot of their other sauces. Their bacon, for example, is not the stuff you buy from the supermarkets. They specially import a cured Pork Cheek known as Guanciale which is used in all their toppings and sauces. Gerri tells me that their basic tomato sauce is made from specially imported fresh Italian tomatoes. Two types are used, the usual Roma tomatoes as well as San Marzano tomatoes which are the ones that must be used if one is to fulfill one of the criteria of a Vera Napoletana Pizza. (True Neapolitan Pizza)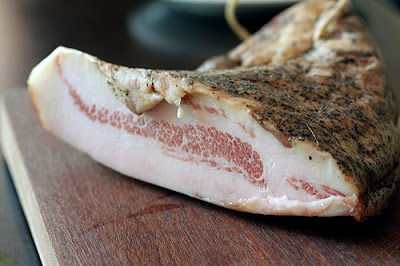 Guanciale: Italian Cured Pork Cheek
I have been on a pizza craze lately and have been doing a lot of research on the perfect pizza. Now of course, everyone has their own preference when it comes to pizza and I think that the current fad amongst Singaporeans is leaning towards the thin crust pizza. But when it comes to pizza, there really is a gold standard which is enforced by the Associazione Verace Pizza Napoletana. Because there are so many styles of pizza in the world now, this Association acts to preserve the style of the pizza which is widely acknowledged as the original from Naples.
I have yet to taste a true Napoletana Pizza in Naples, but I have tasted some pizzas in Australia which were truly amazing. Once you have eaten a great pizza, you'd come to the conclusion that it is all about the dough, the tomato sauce and the cheese. A really good base is soft, chewy and gives you that carbo rush as you chew on the bread. The bottom and the rim has got to be just slightly charred and when combined with the tomato and cheese, it should be enough to get you thinking about the pizza for a long long time.
These guys have put in a lot of effort to make sure that the pizza is as close to what they get back home. They tell me that the dough is made with a closely guarded family recipe which has been passed down through the generations and insist that whatever recipe that you can find on the internet and in cookbooks are not 100% accurate as no self respecting Italian family would ever share their secret.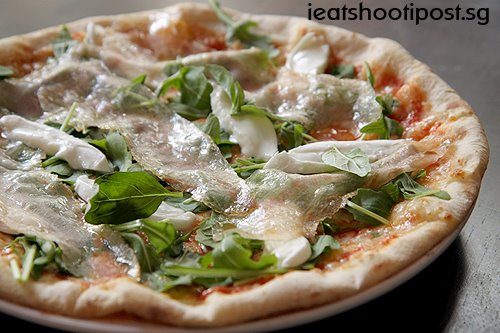 Napoletana style pizza topped with Guanciale, Aragula and Basil $24++ (pizzas range from $16 to $24)
This pizza will not pass the strict criteria for a Vera Pizza Napoletana (VPN) but it certainly fulfills quite a few of the requirements. The dough was, in the words of the VPN rules "soft, elastic and easy to manipulate and fold", more like the texture of a Naan Bread rather then a water cracker which some thin and crispy pizzas are like. The use of San Marzano and Roma Tomatoes in the sauce also conforms to the rules.
However, the rules state that nothing else may be put on top of the pizza except Buffalo Mozarella, Oregano and Basil, so having slivers of Guanciale and Aragula on top of the pizza is like the Chinese proverb says, to "Hwa She Tian Zu" (Drawing legs on a snake – which turns the snake into a lizard). And then the rules are also very strict in stating that the pizza must be cooked in a wood fired oven. (They use a pizza oven here)
So, this pizza will not be given the stamp of a VPN, but I would say that the dough and sauce comes closer to a VPN than any other pizza I have eaten in Singapore. So if you order a Pizza Magherita, you would get a pizza which is very close to a VPN, except for the fact that it wasn't cooked in a wood fired oven. But at the end of the day, the real question is, would you enjoy a Pizza Magherita or one which has slivers of Guanciale and Aragula over it? For me, I am one who believes in discerning the spirit of the law, rather than strict conformity to the letter of the law. So I appreciate the authenticity of the the pizza base and sauce, but the addition of one of two toppings just adds that extra dimension. (You can tell I really like this Guanciale, don't you?)
The pizzas are very good here and I can appreciate the effort that the guys here put into the pizza to make it authentic. But until I get to eat a real Napoletana Pizza in Naples, I still have this niggling feeling that the best is yet to be. 4.25/5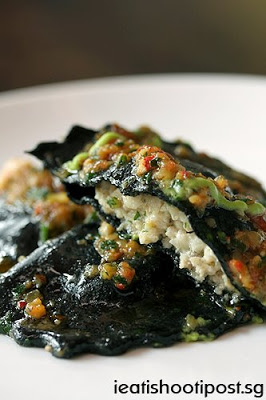 Squid Ink Ravioli with Seabass in Lobster sauce $31++
They have five different types of Raviolis here. We tried the Squid Ink Ravioli which was unexpectedly good.I was told that they specially import an Italian Seabass to make the filling and you can tell from the taste that it is different from the locally farmed Seabass. (Actually it is a different fish altogether). The sauce complemented the the ravioli perfectly. Very balanced and has that wonderful seafood flavour without the overwhelming fishiness. 4.5/5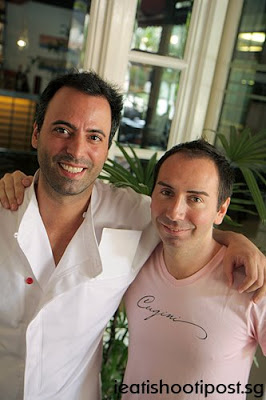 Mauro and Gerri
Conclusion
There is no doubt that these guys are passionate about their food and go to lengths to ensure that they are serving up food that they grew up eating. I think the prices are quite reasonable given that a lot of the stuff they use have to be imported. I loved the pastas, but I will need to try their pizzas in the evening when the oven is really hot and the dough has more time to proof to catch them at their best.
They've got a great set lunch for $13++ where you can order selected pizzas and pastas. I was told that the lamb dishes there were supposed to be really good and there is this Ravioli with ossobuco (veal shank) that I really want to try soon.
Special for ieatishootipost readers:
Mention "ieatishootipost" and get 15% off the menu price. Offer valid for Mar 2009
Update 5 August 2009
Cugini will be shifting to the new address on 8 August. The new menu will feature reduced prices and it is set in a home style setting.
Update 11 Jan 2021
Cugini has shifted to Joo Chiat.  Address updated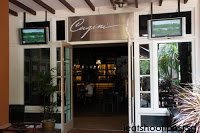 This restaurant was recommended by our reader, Rachelle who arranged for our menu tasting