This Stall has reopened!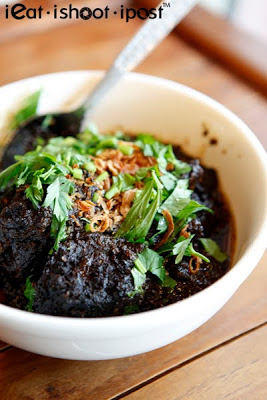 Kuah Rawon $15
Charlie's the kind of chef I like. Straightforward, no nonsense, self confident to the point of being almost smug. Well, I don't like the smug part but I do respect people who are like bulldozers when it comes to their food. You know, that "Mohd Ali, I am the greatest" kind of attitude that says "I only eat my own food because everywhere else just does not seem to cut it". I have known a few of these kind of guys and their food are always quite special. Remember our friend Jason from Ya Kwang? He's kinda like that. No, actually he is very much like that. Too bad he had already migrated to Perth. I guess that over there, he can say even more that he only really enjoys his own food since there is less competition around.

Anyway, I wouldn't have met Charlie if Holybro hadn't had insisted that we went there for lunch. If you know Holybro, he is like a bluewhale who just goes everywhere with his mouth wide open, sampling everything and screening out what is good. This big guy really eats a lot of good food. I think he has probably eaten more than I have even though he is only half my age.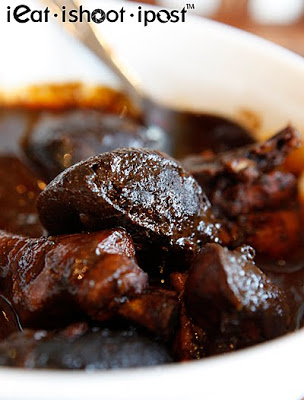 Ayam Buah Keluak $12
Charlie's Peranakan Restaurant is a misnomer, a carry over from the good old days when Charlie was actually only cooking Peranakan food at his hawker stall in Bukit Merah. That was where he became quite famous for his authentic Peranakan cuisine, earning him the accolade of Best Hawker of 1981. Nowadays, he is still churning out his Peranakan dishes but he also does whatever other dishes that takes his fancy. So, aside from the classic Peranakan favourites, he also cooks Indonesian dishes like the Kuah Rawon.
In my last post on Hajjah Mona Nasi Padang, I made mention about the Nasi Rawon. It did not really thrill me that much then. So I was keen to see just how good Charlie's version of it was. He tells me that he specially learnt it from his Culinary Master (Mistress), an Indonesian lady who runs a Warung in Surabaya.
The Kuah Rawon really is something that you should try if you haven't eaten it before. Classically, this dish is made from Beef fat and Buah Keluak, but knowing that Singaporeans are much more health conscious nowadays, Charlie has modified his recipe by using Beef Shin which is stewed till the tendons just melt in your mouth. Although it looks a lot like Ayam Buah Keluak, the taste of Kuah Rawon is very different. It is earthy and smoky but it isn't as tangy as Ayam Buah Keluak nor is it overly spicy. It is the kind of dish that makes you want to eat more rice which is why I like it. 4.5/5
Charlie's version of the Ayam Buah Keluak is great for those who love their gravy to be chock full of the potentially poisonous kernal of the Buah Keluak. Unlike a lot of his contemporaries, Charlie gives no excuses about putting lots of the nut into his dishe. Other people I have talked to always complain about how difficult it is to crack the nut which is why they charge so much for it. Charlie on the other hand just gets it done without giving excuses.
I would have enjoyed the dish more if it wasn't as tangy BUT I was told that there are some customers who actually request for more Assam (tamarind) in their gravy. So you can't really please everyone. The gravy, as I have already mentioned is wonderful as it has lots of ground up Buah Keluak. Charlie's version of Ayam Buah Keluak is the one where the kernals are first removed and fried with prawns and minced pork before being stuffed back into the shells. Just the way I like it. 4.25/5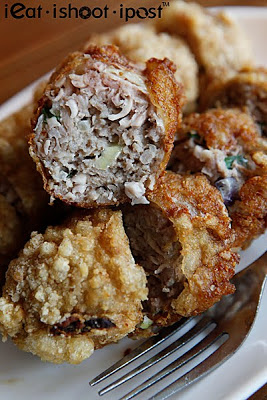 Ngor Hiang $10
Charlie serves up pretty big portions. His dishes are enough for around 2 to 3 persons to share. Even the Ngor Hiang is pretty big, at least they are the biggest Ngor Hiang I have come across. I found the filling to be good but nothing mindblowing. However, the skin of the Ngor Hiang is quite special as he uses pork mesentary. For those not familiar with pig anatomy, the mesentary is that transparent membrane that wraps around the intestines. We teochews call it "Peng Seh". It is not as common to see people using this nowadays which is a shame because the mesentary adds a nice savoury flavour to the Ngoh Hiang as well as a thin and crispy crunch which beancurd skin can't really achieve. 4/5
Conclusion
This is my kind of place. The food is cooked with stubborn passion and Charlie just can't be bothered with your feedback. If you don't like the way he cooks it, then it is because YOU don't know how to eat. The restaurant might not be around for much longer as the Charlie is planning to retire after his lease runs out. He tells me that he is planning to do a pilgrimage to Surabaya to seek after Culinary Nirvana from his Si Mu (Lady Guruess)
Update 26 Apr 2017
This blog post was written at the previous location at 205 East Coast Road, Singapore 428904