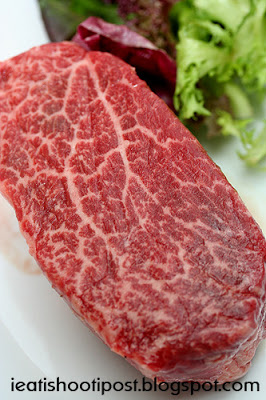 Wagyu Tenderloin 250gm $79.95
When it comes to steak, I usually order Ribeye, T-bone or Sirloin. I avoid Tenderloin because it lacks the robust beefy flavour due to the lack of fat. Because of this, lots of places serve tenderloin wrapped with a piece of bacon to give it a bit more flavour. Furthermore, the serving of tenderloin is usually quite small so it never really satisfies a Beefeater. It would be safe to say that a lot of ladies go for tenderloin because of its tenderness, lack of fat and the smaller servings. Right ladies?
Anyway, when Astons told me that he just got hold of this Grade 7 Wagyu Tenderloin at "Fell off the back of a truck" prices, I just could not resist. The truth was that I was a bit skeptical. A Tenderloin is a Tenderloin even if it was a Wagyu Tenderloin….. or so I thought.
It is quite amazing to see the extent of marbling on a Wagyu Steak, but even more amazing to see it on a Tenderloin which is usually very lean. The marbling on the Tenderloin is more intricate and reticular (net like) then that of Ribeye, so pound for pound there is still less fat on the Tenderloin.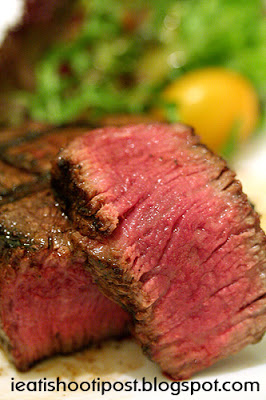 A delicate piece of meat like this needs to be treated royally and Astons got it just right for me. Conventional wisdom says that Wagyu should be cut thinner and quickly seared on the outside so that the fats won't all melt during the cooking process, leaving a piece of cardboard-like steak. But have a look for yourself…. this is a thick steak that is beautifully charred on the outside but still juicy pink on the inside.
Taste wise, this is the BEST Tenderloin I have ever tasted. The meat is tender and the wonderful beefy juices are released with every bite. Truly a wondrous piece of meat which will satisfy the most fastidious of carnivores. 4.6/5
Conclusion
You have got to see it and taste it to believe it!
Link to previous Wagyu Article