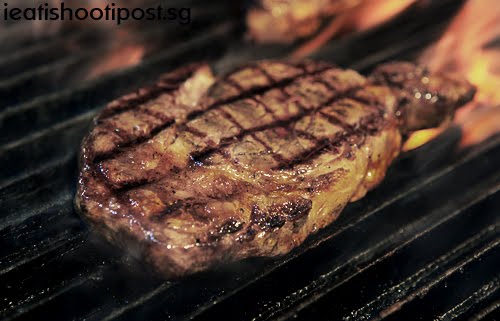 USDA Prime Aged Ribeye Steak 220g $43.90 nett
Steak lovers can rejoice now that Astons has started aging his own beef.

The Aged Beef Steak has long been the holy grail of steak lovers and is often only available at exclusive Steak Restaurants. The process of dry aging basically involves storing a piece of meat at a controlled temperature and humidity for around 21 days so that the meat undergoes a controlled decomposition. During this time, the protein starts to break down into amino acids. One of these amino acids is glutamate, the magical molecule that tingles the umami receptors on your tongue and producing an irresistable urge for you to say "Shiok!". You might be wondering what is the big deal about leaving a piece of meat for 3 weeks to rot and why it is so much more expensive? After all, you could buy a beef steak and leave it in the fridge for 3 weeks right?
Well, part of the cost of Aged Beef is the fact that you need a really well marbled piece of meat to start with. Without all that fat, the meat will dry out too quickly. So you start off with top grade meat, USDA Prime Ribeye in this case,and then you leave it for 21 days in a controlled environment. At the end of the 21 days, the outside of the piece of meat becomes grey and scary. The outside of the piece of meat is then removed and thrown away. Whatever left is your prized Aged Beef. So it is the combination of using quality beef plus wastage that really drives up the price.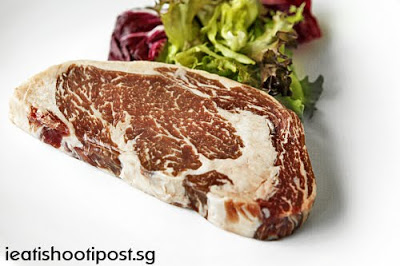 Aston's strategy has always been to offer the best value beef steak in town. We just had the opportunity to enjoy A5 Japanese beef last month and this time round he is out to spoil the market for Aged Beef.
Now, you are seldom going to be able to eat USDA Prime Ribeye steak for less than $50. But Aston has now taken the extra step of getting his supplier (Indoguna) to dry age USDA Prime Ribeye to his specification. Indoguna has already been starting to age beef in Singapore, but Astons supply of Aged Beef is done to his particular specifications.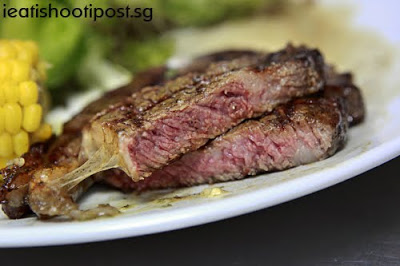 If you have been following the blog, you would know that my experience with local Aged Beef and been equivocal. Somehow the ones that I have tasted just did not live up to the hype. I think it is because aging beef really is an art rather than a science. It is not always 21 days, somtimes it is more, sometimes less and the only way to know is to have an expert inspect it daily. So this sort of things really does take experience.
Our group of Steak lovers went down to taste test Astons Aged Ribeye steaks and we all gave it the thumbs up. It is juicy, tender and flavoursome with a hint of foie gras flavour. This steak must be taken slightly charred so that it develops the full beefy flavour for that ultimate steak experience. I think it is early days yet and with more experience they should be able to produce an even more tasty steak. Even as it is, we all gave it 4.5/5
My only grouse is that the 220g portion is not thick enough for the steak to get really charred on the outside but still juicy inside. You would need a steak of at least 350g for that. So I am hoping that Aston will be able to offer a 350g Aged Ribeye Pittsburg style steak soon!

Conclusion
Cheapest Aged Beef Steak in town and a must try for all steak lovers. I think this one should be made "Astons Prime's House-Steak" and be a permenant item on the top of the menu.
Check out PChong's take on Aston's aged beef on ShiokHochiak.
Special for ieat readers
For the month of October, print out this blog post and get a drink and soup with every Aged Ribeye ordered. That's got to be the best value steak set meal for $43.90 and there is no GST and no service charge. Every steak is served with your choice of two side dishes.