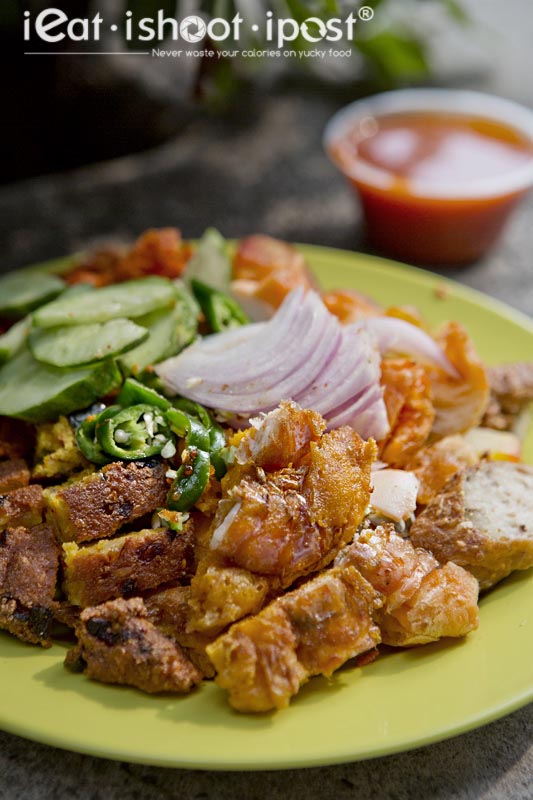 The more senior readers amongst us will no doubt remember the Indian Rojak stalls that used to line Waterloo Street. I don't think my dad ever brought me there to eat Indian Rojak, but I am sure that it must have been quite something for people to still talk about it so fondly! Another defunct hawker centre that I often heard mentioned is the one at the open air carpark along Shenton Way. These were the places where you could find all the local Mamak favourites like Mee Goreng, Sup Kambing and of course, Indian Rojak.
So where is the new centre for Indian Rojak? Well, I would argue that it would be at Ayer Rajah Food Centre where a lot of the hawkers from Shenton Way were relocated to when they were chased off the streets. Even if you don't consider it to be the Indian Rojak centre of Singapore now, you certainly will in 20 years' time.
Let me tell you why.
There are two excellent Indian Rojak stalls here along the same row facing the carpark which are still making all of their items by hand. I have written about Habib's Rojak previously and now I am very happy to add Abdhus Salam Rojak which is located just a few stalls down. Interestingly both of these stalls are now run by Gen Y hawkers who have taken over the reins from their fathers. But did you know that the hawkers actually named the stalls after the two boys when they were still babies? Now they will take over a stall that is eponymously named after them! Talk about self fulfilling prophecies!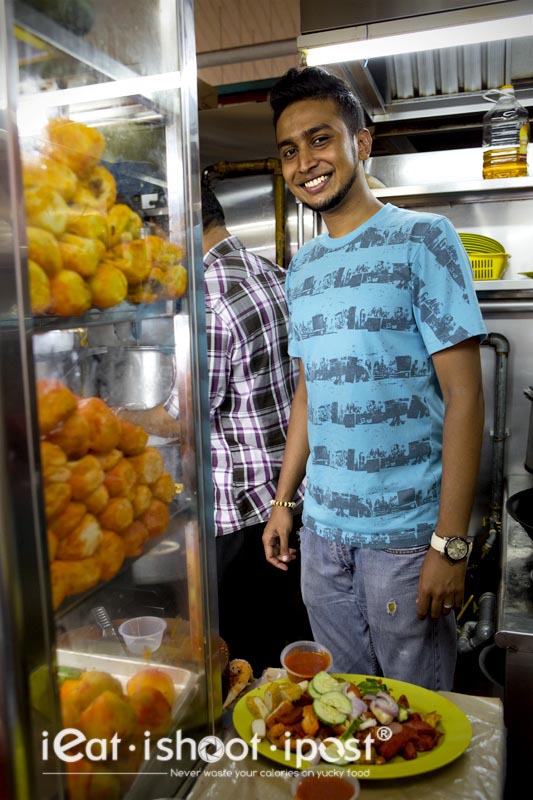 Abdhus Salam had been helping out at his father's stall for the last 10 years while studying to be an engineer. After he received his degree, he worked as an assistant engineer in the semi-conductor industry for two years before he felt the calling to be a hawker.
"I felt that is would be such a waste if no one were to take over the stall which my father had worked so hard to build all these years!" Abdus told me.
His father had started selling Indian Rojak at Shenton Way and moved to their present location when he was just a little boy. Since then he has tirelessly been making all their Rojak items daily by hand.
Like every Gen Y hawkerpreneur I know, Abdhus does dream of running an Indian Rojak empire one day with a string of Indian Rojak stalls selling great rojak and Teh Tarik all over the island. However, even if he doesn't eventually become the Indian Rojak Rajah, he tells me he would be quite happy if he continues to provide great rojak at this one stall.
The rojak here is excellent, its freshly fried and crisp and the sauce tends to be a little more spicy then some of the other Indian Rojak stalls that I have blogged. Of note are the coconut fritters and the vadai which really stood out. They are still using freshly grated coconut to make the fritters everyday and so you can really taste the coconut. The vadai has got a spicy punch which paired so well with the sauce. The other items are also excellent. I did pick up a little fault though. The potatoes were just slightly undercooked so that the inside was slighty crunchy instead of being waxy. 4.5/5
Conclusion
It's great to the next generation taking over their parent's business! If you are hankering for good Indian Rojak, Ayer Rajah Food Centre is the place to go!