Mr Fish: Old School Cantonese Style Fish Soup!
Posted on: October 9, 2015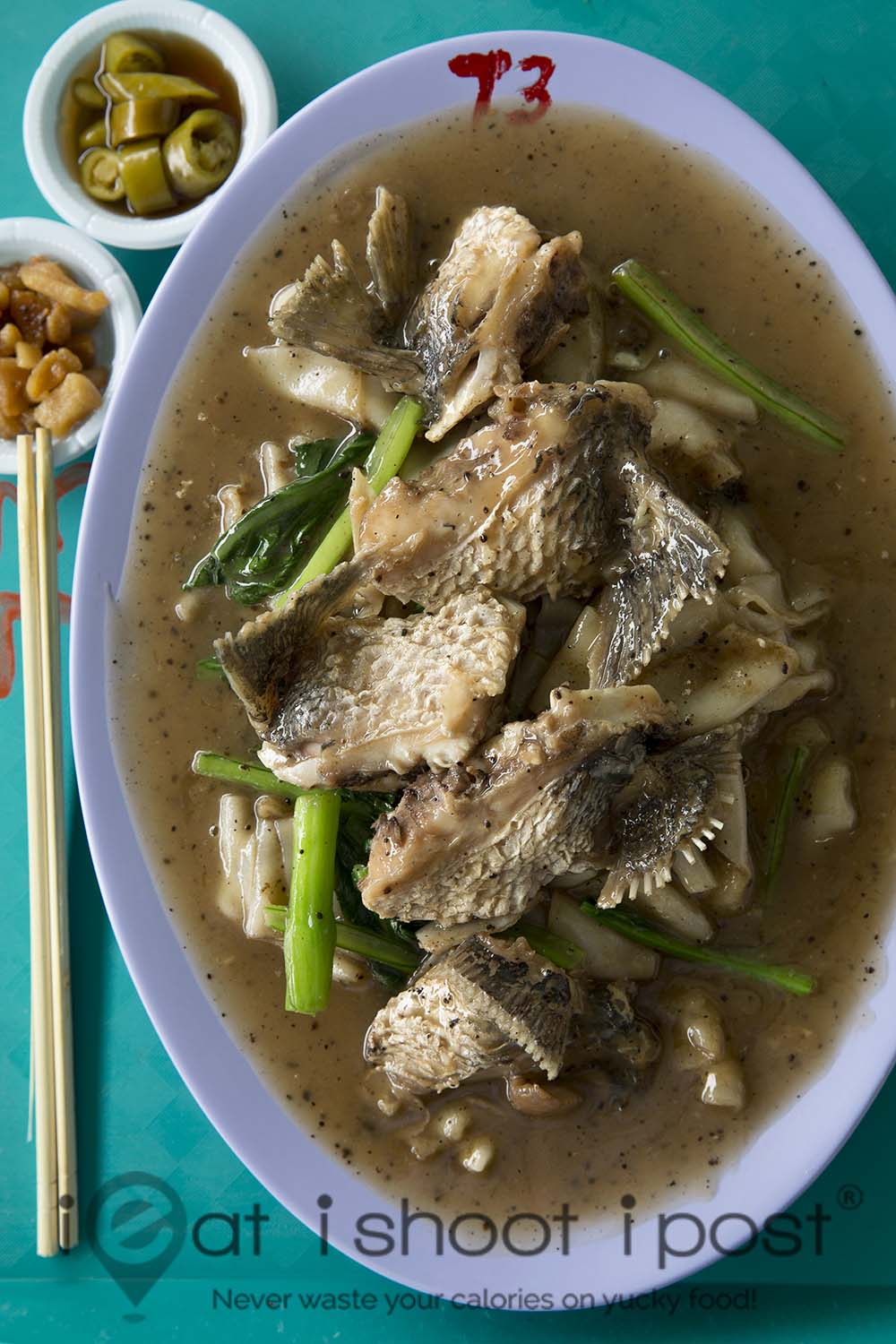 The first thing you probably notice when you visit Mr Fish is the sign that proudly states "No Milk Added".
You might be wondering, "ok, so there is no milk added.  So what?"
Well, to understand what the stall is really trying to say, you have to know a little cooking science.
Most people will describe the texture of fish soup as "creamy".  This creaminess is possible because of the emulsion formed by millions of little oil droplets being suspended in the water.  Traditionally, they make this emulsion by frying the fish bones and then subjecting it to hours of furious boiling so that all the oil droplets become smaller and smaller and is eventually so finely dispersed in the water that the soup assumes a velvety texture.  The long boiling time also turns all the cartilage to gelatine which adds to the silkiness of the soup. Since this is a time consuming and expensive procedure (gas prices are increasing!), the short cut is to add some milk (which itself is an emulsion) to the soup to add that creamy mouth feel without having to boil the soup for hours! So, what the stall is actually trying to say with its "No Milk Added" statement is "We are not taking shortcuts here, this is the fish soup done the traditional way!"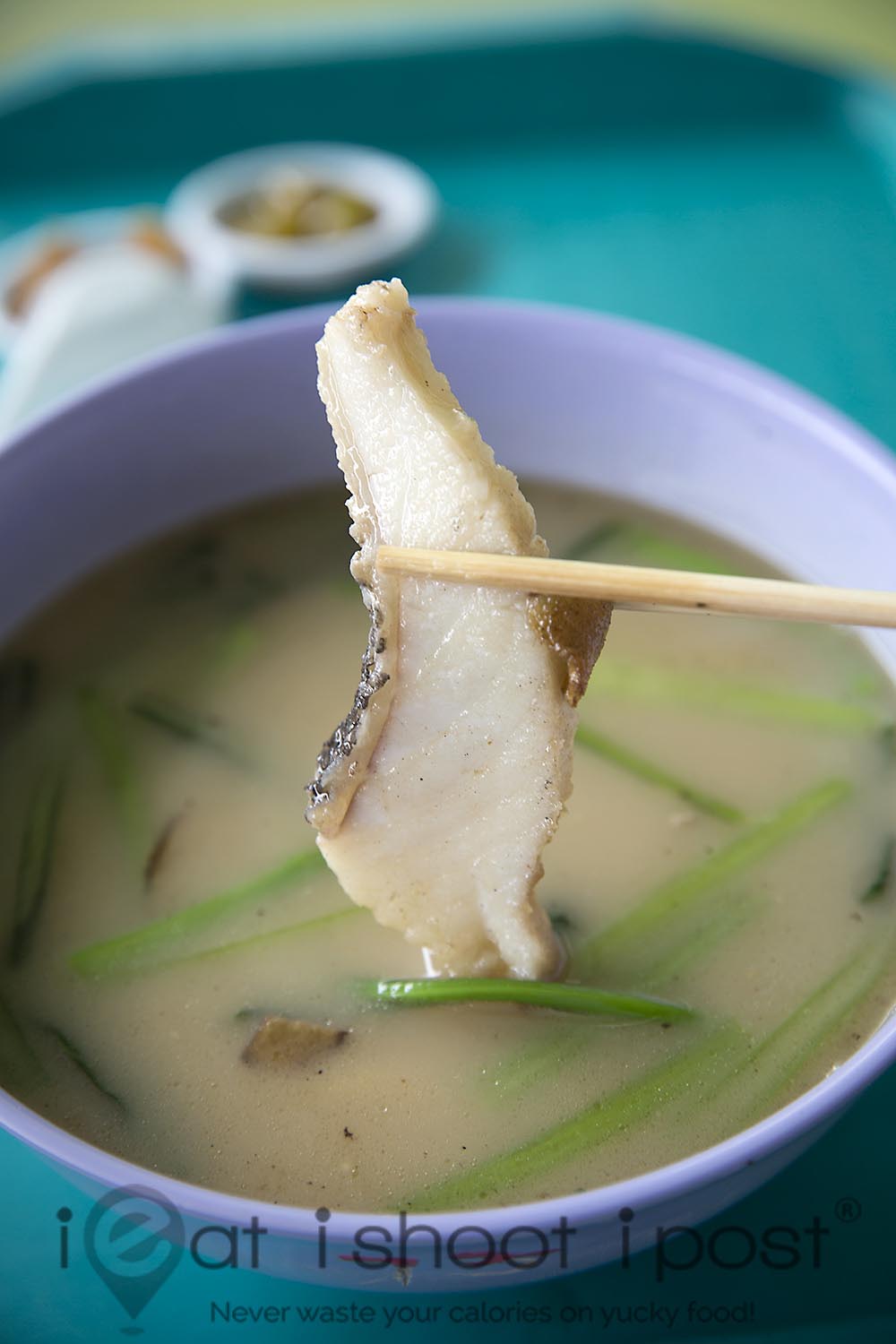 As anticipated, the fish soup is excellent and has a good combination of a deep flavour with a luxurious mouth-feel that is well balanced and not overly rich so that you can easily finish a whole bowl without feeling guilty.  The fish is very fresh, as can be expected of any stall at Smith Street Food Centre since they have one of the best fish markets in Singapore at the wet market downstairs.  If you visit the market in the mornings, you will be able to see hundreds of live snakeheads and carps being slaughtered.  It is no wonder that this food centre is the place to go for steamed Song Fish heads as well! Starting at $4 per bowl, this is not only one of the tastiest fish soups but also one the best value you can get in Singapore!  4.5/5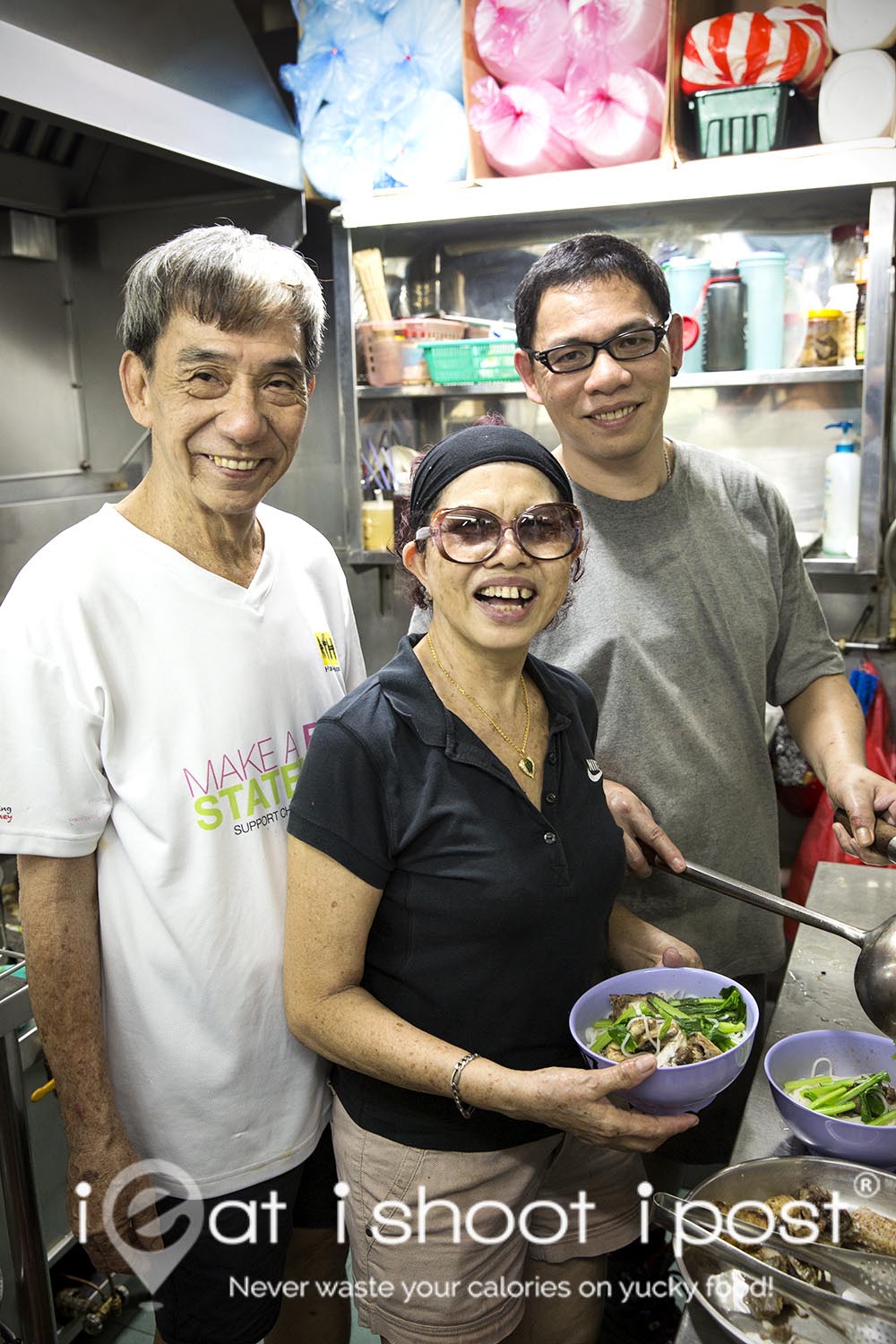 The family has been in the food business for over 30 years but this fish soup is a new recipe that they have introduced since they moved to Smith Street Food Centre over a year ago.  The couple had previously been selling Zi Char at Bukit Merah View Food Centre. When they moved to Smith Street, they decided to scale down and focus just on Cantonese style fish dishes.   Initially, it was just Mr Lee Tad Nan  working at the stall but unfortunately, he had an accident and his son Alan was forced to help out.
I couldn't believe it when Alan told me that he still holds a full time job providing IT support for a bank in the evenings!  He tells me that his day starts at 10am at the stall where he will cook till 4pm.  Then he goes home to take a nap before starting his IT work at 8pm.  He would then work till 8am and return home for another nap before returning to the stall! One wonders if he is "Sleep Wokking" when he is at the stall!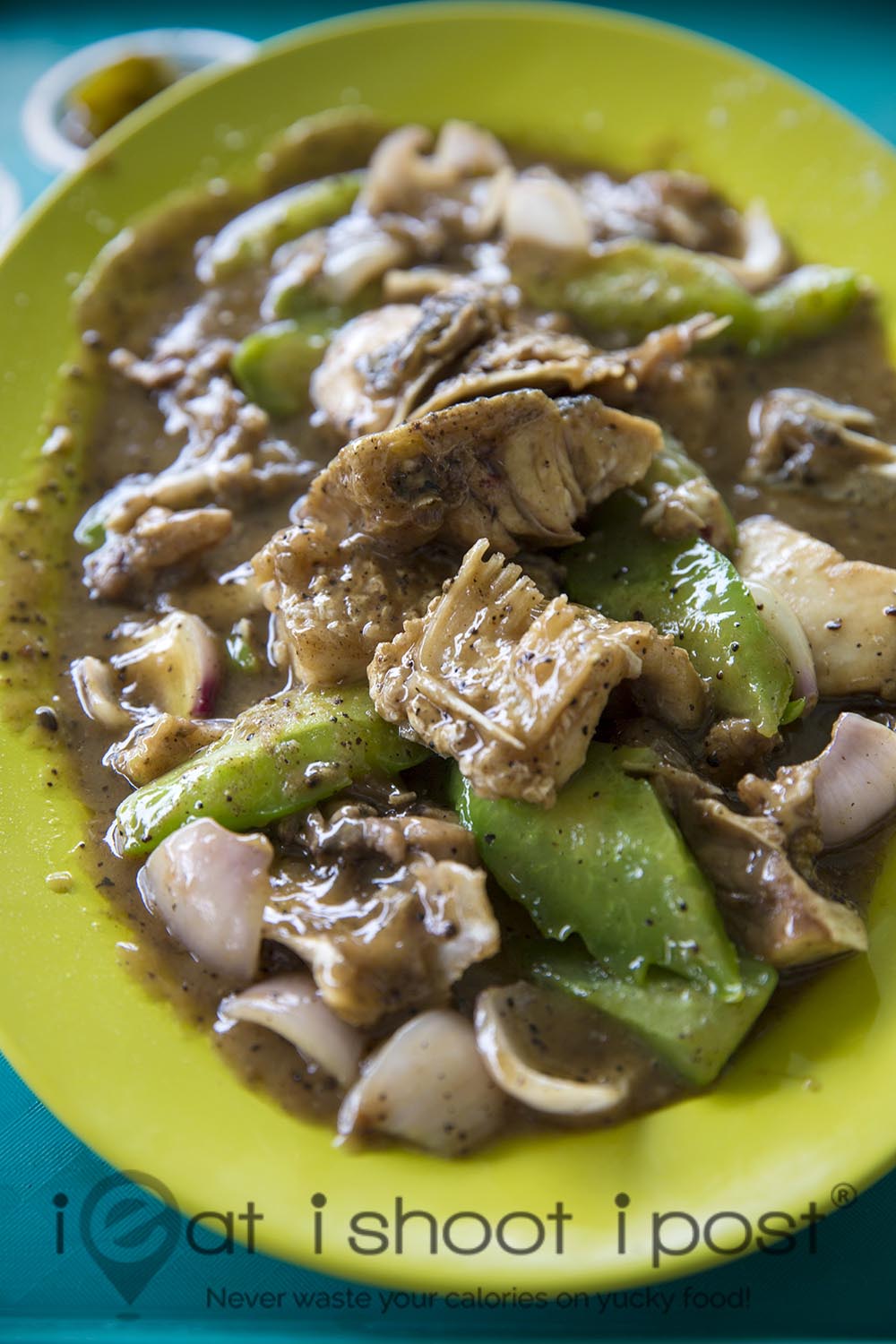 All their dishes are cooked to order, so sometimes the waiting time may be a little long.  But what you get is hor fun that is freshly fried so that it still has that wok hei when it hits your table! The fish collar hor fun is worth a try for those who enjoy the "live" meat of the fish.  By "live" meat, I mean the parts of the fish like the head, fins and belly where the texture is more interesting, something the expert fish eaters really enjoy.  The collar of the snake head which contains the pectoral fins comprise of well exercised meat since snake heads are known to "walk" over mud flats.  As such the meat is rather springy and the texture is excellent when fried then braised in sauce! However, I must say that the sauce did lack enough punch to make it the ultimate hor fun dish.  The same could be said of the fish head with bittergroud and black bean sauce. I found the black bean sauce a little too tangy and didn't have enough depth to coat the back of the palate with umami. 4/5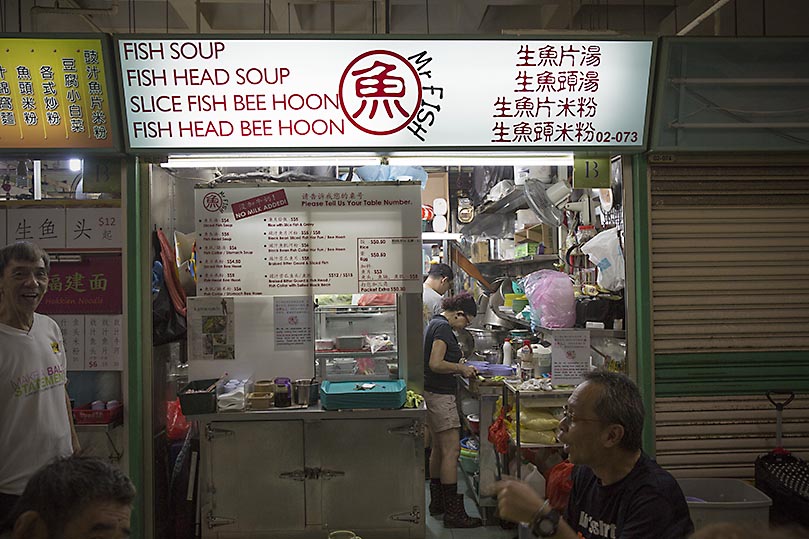 Conclusion
This is an excellent place for a bowl of hearty Cantonese style fish head bee hoon soup and it is very reasonably priced too!  The only complain I anticipate most people will have is the long waiting time during peak periods since every dish is only made to order.  I guess that is the price to pay for quality!
Mr Fish
Address:
Smith Street Food Centre, 335 Smith Street #02-073 (Green zone), Singapore 050335
View Map
Opening hours:
10:00AM to 4:00PM

Closed:
Sunday