Hock Lam Beef Kway Teow: The difference between Teochew and Hainanese Beef Kway Teow
Posted on: February 15, 2011
Hock Lam Beef Kway Teow turns 100 this year and I was there recently to film for a Channel News Asia episode of Truly Asia. I met with the dear uncle who is the grandson of the original founder of Hock Lam Beef Kway Teow and posed him a question that has been bugging me for a while. "How come Beef Kway Teow is called Beef Kway Teow when most of the time it is eaten with Chor Bee Hoon?"

Well, it was another moment of revelation for me to realize that the original Teochew Style Beef Kway Teow was indeed a bowl of Kway Teow in a beef broth. Actually it is very much like the Vietnamese Pho. This was how Teochew Beef Kway Teow has been served all along until the uncle took over the stall in the 70s. By that time, the Hainanese version had become very popular, so lots of people were asking him for the dry version with the thick gravy and coarse Bee Hoon. So that was when he came up with the dry version.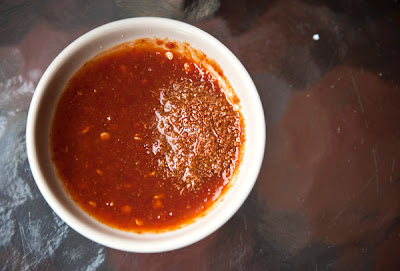 So, if the original Teochew Beef Kway Teow what you are after, you should order the Beef Kway Teow soup instead of the dry version with Chor Bee Hoon. And don't ask for cincalok (fermented shrimp) in your chilli because the Teochews prefer to use grated blue ginger instead. If you want to eat chilli with cincalok, then you should really visit a Hainanese Beef Kway Teow stall like Hai Nan Xin Zhou Beef Noodles in Toa Payoh Lor 7. Notice that it is not even called Beef Kway Teow?
Conclusion
So, when you eat beef kway teow, what do you usually order? Dry or soup? Are you a Teochew Beef Kway Teow person or a Hainanese Beef Noodle person?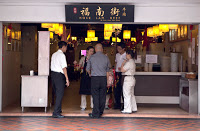 Hock Lam Street Beef Kway Teow
Address:
22 China St, #01-01 Far East Square , Singapore
View Map
Opening hours:
(Not available)
Contact:
62209290, 90180508 (Tina Tan)