Hawker Home Recipes: Chicken Rice
Posted on: April 10, 2008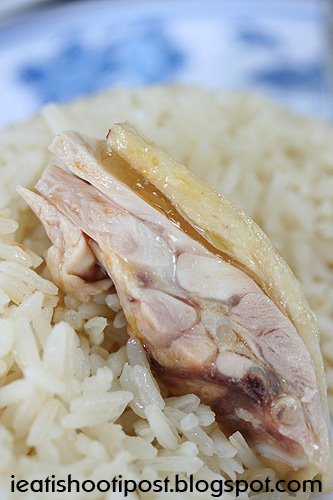 Can you get that layer of jelly under the skin?
I have been thinking about our poor friends from overseas who can only drool at the pictures in the blog but can't go to the nearest hawker centre to satisfy their cravings. So I am going to lessen the pain a bit by providing some recipes whereby our hawker food can be cooked at home.
However, it won't be much fun just publishing recipes which you can get from the internet or a cookbook. What would be more interesting would be to publish the recipes of famous hawker stall owners so that you can try to replicate their dishes at home.
They are willing to share their secrets because firstly, they are generous people. And secondly, they probably know that after trying to cook your own dishes at home, you'd probably appreciate just how much work goes into preparing the food that you would just head down to eat at their stalls instead!
Anyway, I thought we would start with what is probably the most ubiquitous hawker dish in Singapore, viz Chicken Rice. And to share with us his recipe with is the boss of Five Star Chicken Rice! Many thanks to Mr Li!


Five Star Boss's Homestyle Kampung Chicken Rice Recipe*:

Chicken
1 whole kampung chicken
70 ml sesame oil
60 ml light soy sauce
Pandan leaves
60 ml of concentrated chicken stock
Sliced ginger
Finely chopped Garlic
Chicken bones
Rice
Cooking oil
Chicken fat
Salt
Shallot oil
Pandan leaves
Chilli
1/3 chilli padi
2/3 red chilli
fresh lime
chicken broth
finely minced ginger.
Procedure
Prepare chicken stock by boiling chicken bones in water for at least 1 hour (the longer you boil the better). Bring another pot of water to boil, making sure that there is enough water so that the entire chicken can be submerged. Once the water is boiling, put all the ingredients listed above into the boiling water. Next, dip the chicken into the boiling water and dip it a few times until the skin is cooked. Once the skin is cooked, leave the chicken under the water to cook. This is to ensure that the skin does not break. The cooking time is about 30 minutes for a 1.5kg chicken. Ensure that the water be kept just below the boiling point during the entire cooking process. Once chicken is cooked, put the chicken immediately into cool water for a few minutes. This will stop the cooking process and ensure that the meat will remain tender and the skin crunchy.
To cook the rice, combine the concentrated chicken stock and the other ingredients listed above with enough water from the chicken broth to cover the rice. The water level should be as per the normal levels for cooking white rice. Cook the rice as per the normal method.
To prepare chilli sauce, first squeeze the lime to obtain fresh lime juice. Next, blend the ingredients in a blender until it is fluid and smooth. Finally, add some salt and sugar to taste and mix thoroughly.
Enjoy your chicken rice! And do write back and tell us if the recipe works or what you did to tweak it!
*You'll have to use a bit of agarism (estimation) because that is how our hawkers cook!
Postscript:
The most important ingredient here is the chicken. If you get a normal chicken from NTUC use it to cook, don't expect to get a super chicken rice. The Five Star boss told me that Kampung Chicken is available at the Supermarket, so go for the biggest chicken you can get your hands on. The bigger the chicken the more flavour you get which is why traditional Hainanese chicken rice people go for mother hens (more specifically they must have laid 2 eggs – no more no less). So the key is to get your hands on a good chicken. I just called Chia from Butcher House and he confirms that they stock a very nice and fat >2kg chicken which are put on special feeds to enhance the flavour of the chicken. If you want super chicken rice, you might just want to spend a little more effort and money and get yourself a good chicken to start with!
Chia is from Butcher House. They are at 464 River Valley Road (opp Valley Point). 68873464 I am sure you can also procure a good chicken from the other specialised butcheries as well.