Hainan Hokkien Mee: Takes a Hainanese to fry Hokkien Mee
Posted on: December 3, 2007
With iwatch_ueat and damien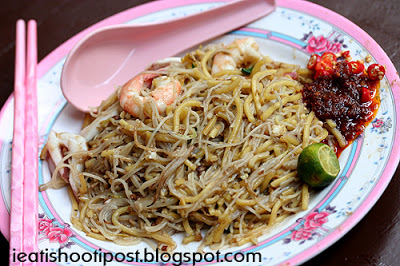 I have made a most momentous decision of my life! I finally decided that Hokkien Mee MUST be fried with thin Bee Hoon and it MUST be dry. Some of you might be wondering how this little revelation can be so momentous. But for me, it was like the words of the World's most famous Hymn, Amazing Grace: I was blind, but now I see.
Revelation is like that. You go through life not knowing what you do not know. Then something happens and suddenly it was as if someone turned just turned on the lights and you realize what the fuss is all about. Know what I mean?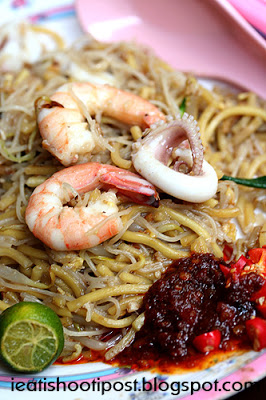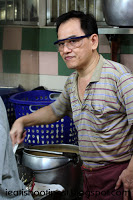 This is one superb Hokkien Mee. It is unlike a lot of Hokkien Mee nowadays which are prepared more like a pasta where the stock simply added at the end and served really wet. This one was fried until all that wonderful stock has been completely absorbed into the noodles and beehoon AND sealed. Every mouthful was such a delight that it really is a plate of Hokkien Mee that I slowly savored every mouthful. 4.6/5
Now the weird twist at the end is this. How come one of the best plates Hokkien Mee in Singapore comes from a stall that calls itself "Hainan" Hokkien Mee? Surely the owner is not making the statement that it takes a Hainanese man to show the Hokkien how to fry Hokkien Mee properly right?
Conclusion
Stands out as one of the best plate of Hokkien Mee I have tasted. Only letdown was the chilli which was not quite fragrant enough and you get a really small portion for $3.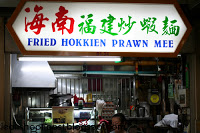 Hainan Hokkien Mee
Address:
No 34 Golden Mile Food Centre, Singapore
Opening hours:
11:00AM to 2:00PM
3:00PM to 9:00PM

Closed:
Wednesdays