Crispy Chicken with Colonial Curry Sauce: RedMart Recipes
Posted on: October 9, 2020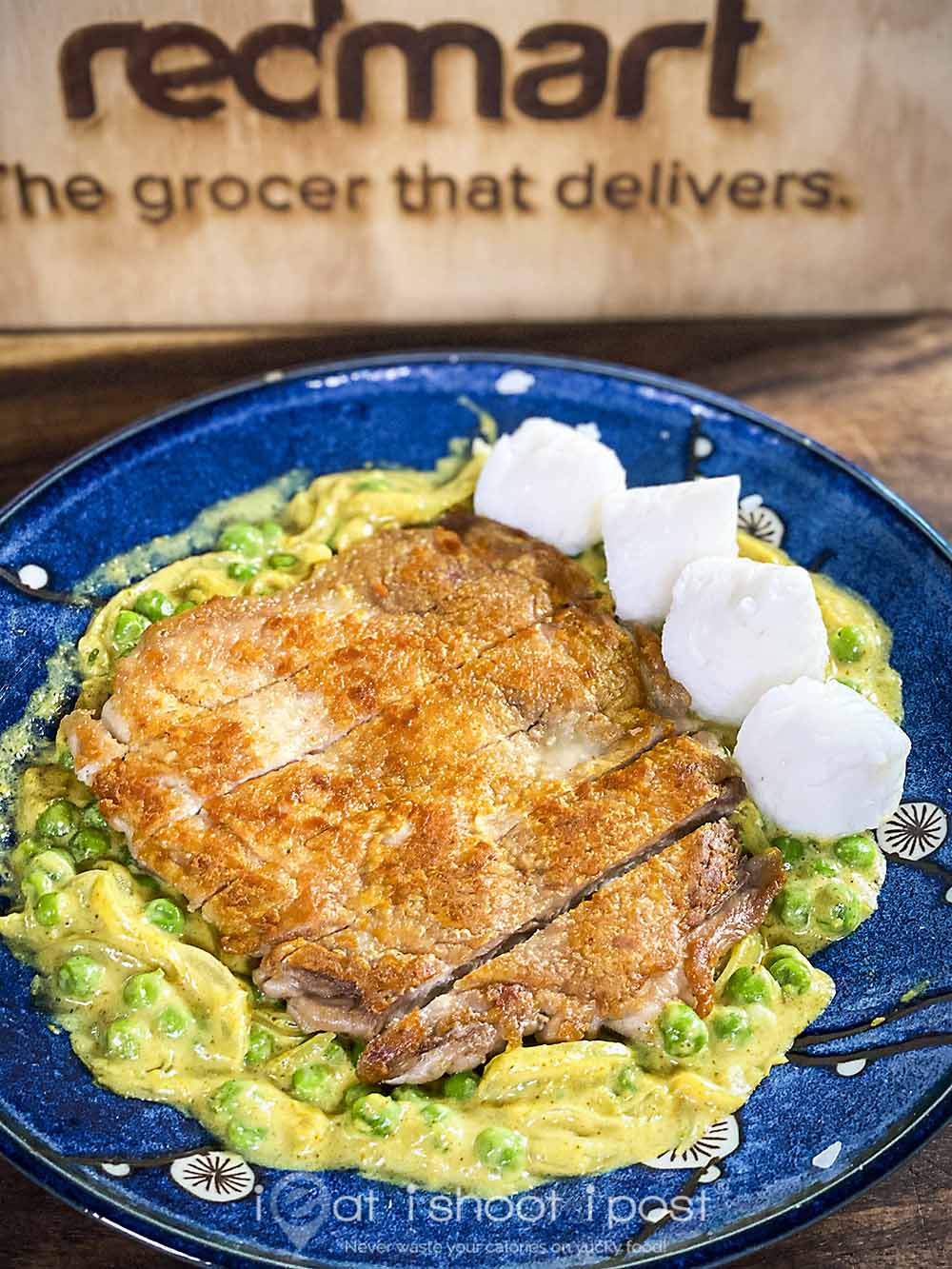 This colonial curry recipe is a family favourite.  I learnt the recipe over 20 years ago in Sydney from an old Hainanese uncle.  We usually cook this as a curry, but today I will cook the chicken first to give it a crispy skin and then serve it with the sauce!  If you are in a hurry, you can simply saute the onions and chicken first and cook the chicken in the sauce.  It goes really well with white rice!
Ingredients
Kee Song Organic Lacto boneless chicken leg (Fresh) 300g
Waugh's Curry Powder 1 Tbsp
Bonduelle Organic green peas 1 cup
Milk 1/2 cup
RedMart UK brown onion 1 small
RedMart Raw Sugar 2 tsp
Knorr SavorRich concentrated chicken Seasoning 1 Tbsp
Lime juice 1 tsp
Grated Lime zest 1/2 tsp
Method
1.  Using a sharp knife, make incisions on the skin of the chicken
2.  Cover with cling wrap and flatten the chicken with a meat tenderizer.  Season with salt on both sides and leave in the fridge with the the skin side up for 1 hour or overnight
3.  Add oil to a cold pan and place skin side of chicken onto the pan.  Place another pot or pan over the chicken and start the fire. Pan fry for 8 mins.
4.  After 8 mins, inspect the skin.  If needed, fry for another 3mins till gold brown and crispy.  Then flip over and lightly fry the meat side for a min.  Set aside
5.  To prepare curry sauce, saute sliced onions, add 1/2 cup water, curry powder and chciken seasoning and simmer for 2 mins.
6.  Add milk, green peas, sugar, lime juice and lime zest.
Serving Suggestion
Serve with white rice or Adabi Traditional mini Ketupat Rice Dumplings
RedMart Voucher – Leslie8OFF
Use this voucher to get $8 off a minimum $60 purchase until 27 October 2020.
RedMart turns 9 in October.  To celebrate, they are having a birthday sale with crazy weekend deals across 200 Brands until 27 October 2020.
See our other RedMart recipes!
Tea-smoked Salmon recipe
Steak with Mushroom sauce
Also read about: RedMart supplier stories
Red Dot Farm – high tech veggie farm
BluCurrent – smart fish farm
Disclosure: This post is done in collaboration with RedMart
Disclosure: Some links above are affiliate links, meaning, at no additional cost to you, we will earn a small commission if you click through and make a purchase.